America's dairy farmers could face another price hit this year as a slowdown in government purchases combines with reduced demand from schools.
Dairy products have gotten a boost from the U.S. Department of Agriculture's Farmers to Families Food Box program, which includes plans to buy as much as $4 billion worth of food to distribute to those in need. The government purchases have helped to send milk prices on a tear recently. But the program is slated to wind down, and concerns are rising over whether that rally will be sustainable.
Milk markets have already had a roller-coaster year. When coronavirus lockdowns went into place, dairy markets were among the hardest hit in the food world. It turns out, consumers eat a lot more cheese and butter when they're dining out than they do at home. As restaurants shuttered, farmers were left with an overwhelming glut. Millions of pounds of milk got dumped.
But then governments stepped in and helped to rescue prices. In addition to the U.S. food program and a dairy bailout, the European Union and Australia also earmarked funds for the industry. That sent milk futures in Chicago soaring after touching a decade low in April.
Now, it looks like things could reverse again.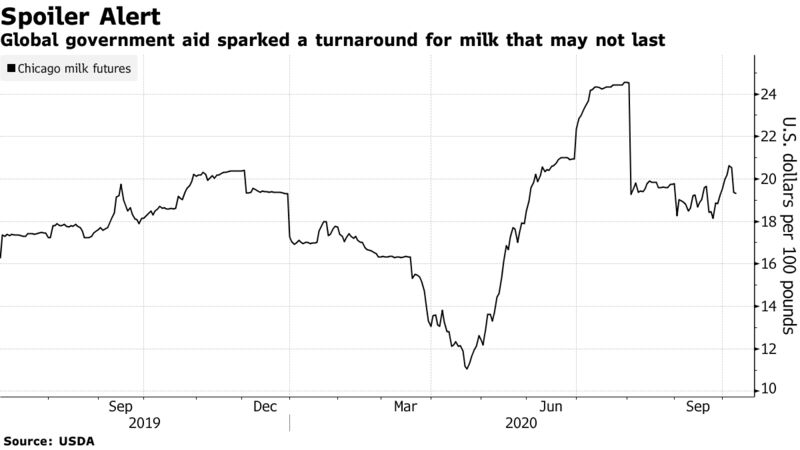 U.S. government dairy purchases are set to dwindle by year's end, dropping to 7.9 million pounds by December from 505.7 million pounds in September, according to StoneX Group Inc. estimates. That decline would remove a year's worth of growth from the industry.
"The concern moving forward is as these government purchases slow — it looks like they're going to slow dramatically after the election —commercial demand is going to be down," said Nate Donnay, director of dairy market insight at StoneX. "Prices are going to fall again to try to slow down overall milk production and get it lined up with where real commercial demand is."
At the same time, schools have gone virtual at least part of the time in many places. That means a lot fewer milk cartons are being gulped down in cafeterias. The same goes for fewer pieces of lunchtime pizza, grilled cheese sandwiches and other typical meals. Demand from schools typically represents about 6% of the market.
Declining fluid milk demand is the biggest impact from students not completely returning to school, which is bearish for the industry, said Alyssa Badger, director of global operations at HighGround Dairy in Chicago.
—Justina Vasquez in New York
Source: bloomberg.com