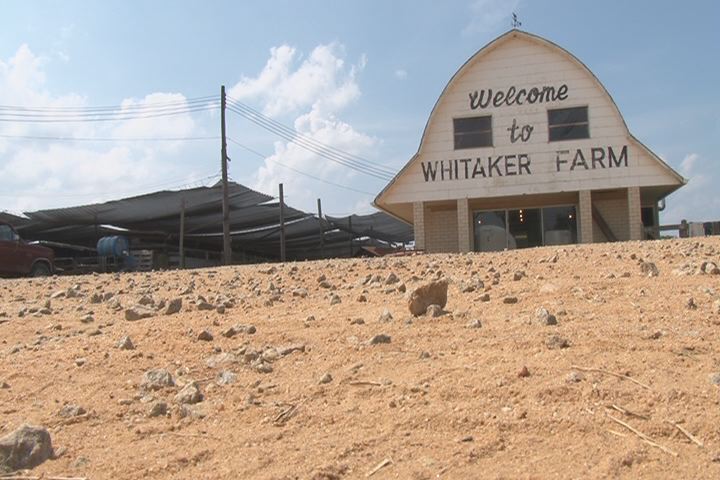 After a month long investigation and a final tip off Thursday night, the Federal Bureau of Investigation (FBI), the Georgia Bureau of Investigation (GBI)  and local authorities moved in and made a drug bust on Whitaker Farms, owned by Lee Whitaker of McDuffie County, Georgia.
"It's a stab in the back," said Cassie Whitaker.
Whitaker says she felt betrayed by her family's employees when their farm became a crime scene.
"About 40 plus cars, cop cars, SWAT team and everything rolled in here and it was a nightmare," Whitaker, said.
She says the nightmare played out in a dairy barn where law enforcement officials found several guns, marijuana and methamphetamine, which investigators estimate could be worth $50,000.
Several of their employees are being questioned by investigators as persons of interest; no arrests have been made yet.
She says they didn't know about the stash of drugs because they own 300 acres and sometimes work odd hours.
"They were apparently doing it off the farm or on the farm late at night when we weren't around," she said.
Now that Whitaker's surprise has worn off she says her family is just left with confusion.
"We feel like we help them by giving them a place to stay and pay them and it's just awful."
Investigators said the drugs were found on the 500 acre farm, inside and near one of the worker's homes. There was not a working meth lab, however. The methamphetamine was being imported.
Apparently the two suspects are employed by Whitaker farm and investigators say it should be noted that members of the Whitaker family were not the focus of this investigation and cooperated fully with this investigation from the beginning.
Further investigation revealed that a small explosive device was recovered, which resulted in several members of the Richmond County Sheriff's Bomb Squad rendering the area safe by detonating the small device.