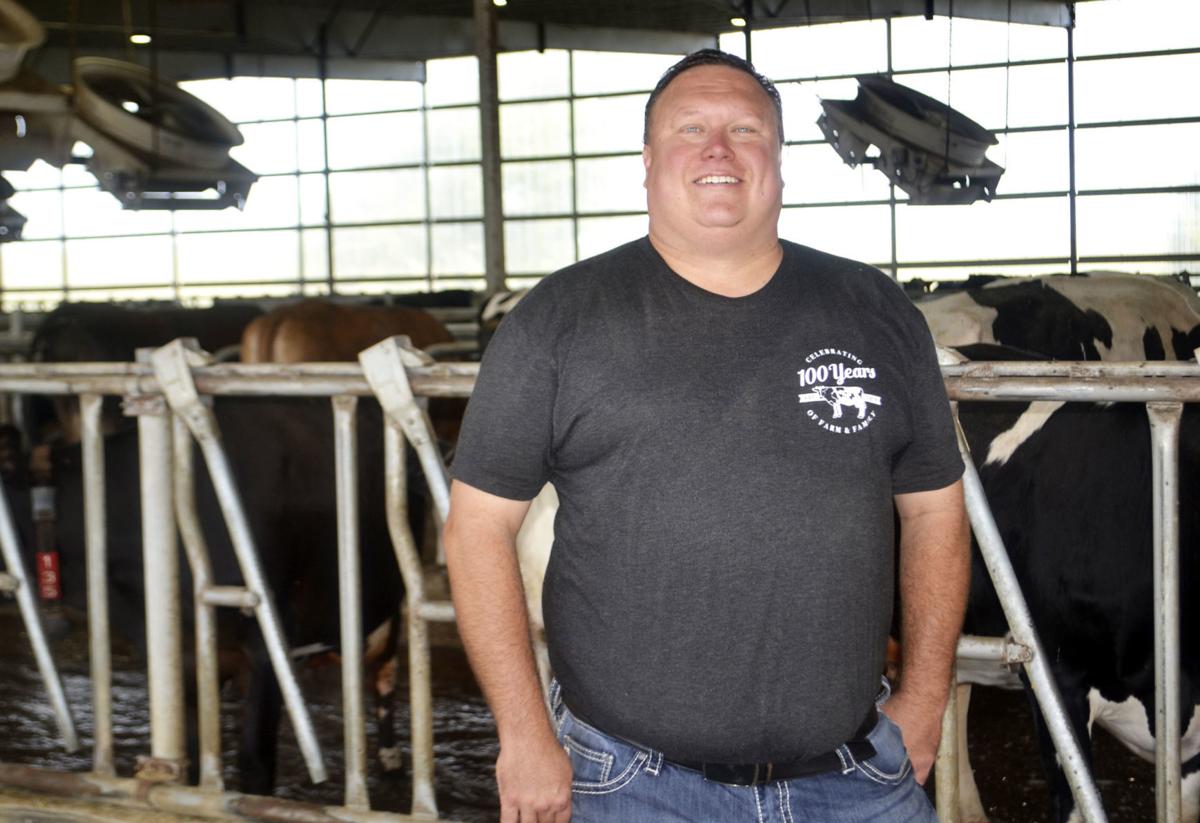 Growing and developing a century-old Creston dairy farm can be attributed to the hard work and long hours put in by Bob Larson's father, grandfather and great-grandfather.
But the decision made by the fourth-generation of Larson Farms more than a year ago to largely automate his 350-cow operation by having four robotics booths actually do the day-to-day milking might be the ticket to keeping his dream alive for decades to come.
From noon-5 p.m. Sunday, anybody with interest is invited to attend the Larson Farms Robotic Dairy Open House. Larson said that since automating his operation in late February 2018, a lot of interest has swirled around what exactly is happening on his property. That interest is warranted since, according to Larson, his family's operation is one of just three in the state utilizing this type of technology.
The thing is, many people hear robotics and dairy farming and can't really visualize the process. Before learning about how automating a dairy operation worked while seeing milking robots on a 2014 trip to Canada, neither could he.
"When you hear robots, most people think of R2-D2," he said, referencing Luke Skywalker's robot pal from the iconic movie series 'Star Wars.' "I was still thinking that you would still be in a parlor pushing the cow, that there would be something moving to the cow to do it, not that the cow comes to the robot. That was kind of different in my mind, it just wasn't the way I was thinking of it."
The Open House will take place on the farm at 51069 190th Ave., which is located about 1 ½ miles north of the Creston Spur. There will be complimentary ice cream, cheese curds, pork sandwiches and of course, milk, for those who make the trip.
"We've had a lot of people who want to see the new robotic dairy and that kind of stuff," Larson said, who in the past has hosted and gotten praise from the likes of Gov. Pete Ricketts, Congressman Jeff Fortenberry and Steve Wellman, the director of the Nebraska Department of Agriculture.
"So obviously we wanted to showcase that, but on the second side of that we wanted to let the consumer come in and see cows, see where their milk comes from, give them a tour, let them talk to me and my family and people in the industry and get a feel for what we are doing."
With Larson's father, Rick, well into his 60s and wanting to slow down his role a little on the farm, it forced Larson to start thinking a few years ago about the direction the operation was heading. The facility as a whole was aging, and with that age, its overall efficiency was beginning to decline.
For a time, there was actually some talk about whether it was time for the Larsons to get out of dairy. To reverse the efficiency meter from the red back into the green, it was determined that the operation might have to add another milking parlor.
"You would kind of have to go bigger, just to get those efficiencies," he said. "Robotics really fit to keep the smaller family size going."
So on Feb. 26, 2018, 240 of Larson's animals started receiving daily milking from four Pella, Iowa, built Lely robots. An additional 110 dairy cows still are milked in the traditional way at the family's old parlor. And though his operation has revved up, its actual staffing needs have decreased from 11 full-time members to six.
"A big driving factor is labor. Labor is very difficult in this area – finding that good quality labor," Larson said. "That's another driving force behind it."
Each day at Larson Dairy looks about the same when viewing the milking process. Cows, unprodded, line up – some almost eagerly – waiting their turn to walk into one of four enclosed robotics milking stations. Each dairy cow is equipped with a tracker – think of a Fitbit device – that monitors whether they went in for milking on a particular day.
Source: columbustelegram.com