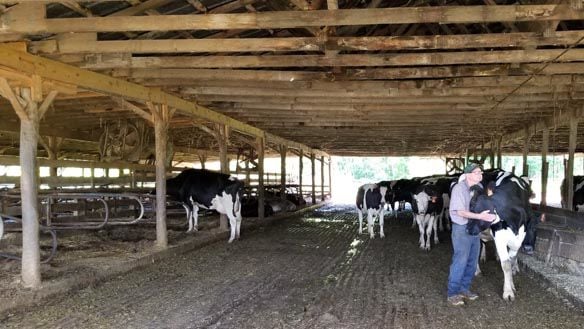 An industry that helped shape Powhatan into the community it is breathed its last when the only remaining commercial dairy operating in the county recently moved to a neighboring locality.
After 15 years of operating a dairy in Powhatan County, Tommy Adkins recently made the decision to move his operation of 80-plus cows to Cumberland County and go into partnership with another dairyman, Glen Landis.
Adkins said he loved running a dairy in Powhatan since 2004 but couldn't deny the benefits of pooling the resources of the two dairies – both in terms of labor and equipment.
"We could use the scale of economies. … He is probably milking 30 or 40 more cows. If you can take 250 cows and spread your costs out over more cows, you've got less pennies per cow involved in what each milking unit cost. It really was the only way I saw to be able to stay in the business and make it and him, too," Adkins said.
While it is good to see Adkins' dairy continue on, his departure means the end of an industry that was once an essential part of the local economy for decades, said Rachel Henley, a Powhatan County Cooperative Extension agent.
"It is significant because it shows a shift in the agriculture industry as a whole, but then also on the local level, especially when there were so many dairies at one point and it was a way of life and a career that was profitable," she said.
Powhatan is not abnormal in this change. The dairy farming in Virginia has done the same thing over the last 30 years as the industry saw steady decline, said Robert Harper, a former extension agent.
In addition to the hard work and challenges of running a farm 365 days a year, small commercial dairies then and now hav to compete against a milk glut in the market; low milk prices versus increasing costs of farming, and the competition of alternative dairy products – made from soy, rice, nuts – just to name a few of the factors. There is also the issue of finding successors who want to take on all of that responsibility.
"There are like 500 Grade A dairies in Virginia now. That number is going down all the time and there are economic reasons. It is economics that brought the rise of the family 100-200 cow dairy that milked twice a day. People went into that business and made a good living at it. Then it all changed," Harper said.
Advent of electricity
Dairy farming in Powhatan saw its heyday arise after the end of World War II, and if a farmer was willing to work hard, he could make a good living for his family, said Bob Cosby, who was a dairy farmer for 45 years.
Before the war, while most local farms would have had cows that produced milk for their families and others around them, the main industry related to dairy cows in Powhatan would have involved Grade B farms, he said. Unlike Grade A farms, which meet fluid grade standards, Grade B milk could only be used in cheese, butter and nonfat dry milk.
Many local farms would have been selling their milk to a cheese factory that was once located in the Village area or skimming the cream off and taking it to a creamery in Farmville, he said. The main hindrances to taking the business much farther was keeping the milk cool during storage and transportation.
"They milked by hand and cooled it in the springs and creek water – whatever they could to keep it cool," Cosby said.
The turning point for dairy farming in Powhatan was the late 1930s and early 1940s, when efforts were made to bring electricity to the county, said Johns Bailey, a former Powhatan agriculture extension agent. This brought two huge technological advances to the dairy farmers – milking machines using vacuum pumps to do the milking and refrigeration to keep the milk cool.
With these systems, cows could be milked by machines that transferred the milk into refrigerated tanks, he said. The milk went through the entire process of being pasteurized and bottled without touching the air until a customer opens the container of milk.
Census data and how the dairy industry was tracked changed through the years, but the numbers still show some of the evolution, Henley said. In 1944, 220 farms in Powhatan sold dairy products worth $213,506. By 1949, there were 163 farms reporting they sold dairy products, but the income had jumped to $534,925.
By the 1970s, the number of dairies had dropped dramatically, but they seemed to stay steady between 26 and 27 through the census in 1987. Meanwhile, the income from dairy products sold continued to rise – from $2,211,000 in 1974 to $4,675,000 in 1982.
It wasn't just the dairy farms, which provided good income for many local families, Bailey said. The industry also provided jobs through feed and fertilizer sales, veterinarian care, transportation, processing, and milk and dairy product sales.
"Usually you would say the money generated in a county like Powhatan went through three or four hands," Bailey said.
Family traditions
Dairy farming changed Cosby's life in the 1940s and '50s. His father, Robert A. Cosby, was raising hogs to sell for meat and doing general farming when a friend suggested starting a dairy. In 1949, he started a Grade B dairy, selling milk in 10-gallon cans to Birtchard Dairy in Amelia to make cheese and ice cream. But by 1952, Robert Cosby's operation switched to Grade A milk, which brought in more money.
Bob Cosby remembered being in eighth or ninth grade when his father started his dairy. He and his brother, Gabe, would help with the work before and after school.
"I have milked 17 cows by hand and gone to school in this building," he said, speaking of the Village building, which used to serve as a school. "There wasn't any way you can get that smell off of you."
He recalled how the check for the milk would come with the milk truck driver, and when his father got that first $600 milk check for two weeks worth of milk, he was over the moon.
"My brother and I were milking cows and had a few buckets of milk. Daddy was waving that check. He had never gotten that much before and he kicked both of those buckets of milk over," Cosby said with a laugh.
Cosby went to Virginia Tech to study dairy science and graduated in 1959. He came home and went into business with his father. They were partners until Robert Cosby retired in 1969, at which point Gabe Cosby returned and joined his brother in the business.
Bob Cosby said he was a dairy farmer for 45 years, the last two just waiting for his brother to reach retirement age before they got out of the business together in 2004. That was the same year, Adkins started to rent the dairy operation and part of the farmland.
Cosby said he was fortunate that his family had focused on selling registered cows and breeding stock, because it supplemented his income during his years as a farmer and helped him get really good sale prices when he retired. His cows were sold to operations not only across the United States but in India and Russia.
Owen Walker's history with dairy farming is similar to Cosby's story. His father, G.A. Walker, started a Grade A dairy in 1942, also at the encouragement of another dairy farmer in the county. Young Owen was 2 at the time and grew up helping on the farm.
Walker has lived in Powhatan all of his life with the exception of four years at Virginia Tech, two years in the U.S. Army, and two years teaching as a certified vocational agriculture teacher in another locality.
At one point those different avenues represented the direction his life could take – a teacher, a military man or a dairy farmer. But while he did teach for several years at Huguenot Academy after starting up his own dairy farm in 1968, Walker said the farm is where he felt he belonged – "It was in my blood."
"It was a lot of hard work, but if you managed right, back in those days you could make a good living," he said. "I basically started on my own and it was tough. Daddy helped. We swapped equipment back and forth."
Walker recalled the community of dairy farms in Powhatan, including seven within a mile of his house at one point.
Walker's decision to retire from the dairy business in March 2006 wasn't difficult, he said. He had four daughters who were interested in the work but found better jobs. He was also already getting into the beef cattle business.
"I was tired," he said matter-of-factly.
Everything changes
When Bailey came to work as an extension agent in Powhatan in 1970, dairy farming "was the largest agricultural industry that we had in the county."
"It had dropped some. But for Powhatan not being any larger, that was a pretty large number," he said. "I would say middle 80s to early 90s, that is when the decline really started. That is when we were really getting the pressure from development from Richmond and milk prices started to decline."
Farmers were largely outdone by their own efficiency, Cosby said. Breeding techniques and improvements to how they raised the cows led the animals to produce an overabundance of milk – so much so that a glut in the market was making it difficult for farmers to get decent prices.
There were programs that sought to help the situation, including a whole-herd buyout program, Bailey said. Farmers agreed to sell their whole herds for slaughter since simply selling them to another dairy wouldn't have solved the issue of too much milk on the market.
The number of dairies in Powhatan continued to drop, according to census data. From 27 in 1987, the numbers just kept getting smaller: 16 in 1992; 14 in 1997; 10 in 2002; three in 2007, and one in 2012. That was Adkins.
Adkins started dairy farming 2004 in what he called his very own 40-year-old midlife crisis. At the time, he was the Select Sires representative for all southeastern Virginia. He and his wife, Andrea, wanted to raise their children in a country environment, and Adkins sincerely had a passion for raising cows.
So he took a leap. Cosby had just retired that year, so Adkins rented his dairy operation.
Adkins undertook the challenge at a time many would have called him crazy for doing so. Thousands of struggling small dairy farms across the nation had been selling out or going out of business for decades.
In addition to the hard work and challenges of running a farm 365 days a year, small commercial dairies still had to compete against a milk glut in the market; low milk prices versus increasing costs of farming, and the competition of alternative dairy products.
"I wasn't scared of that. Anybody in this world that wants to make something or do something gets up at 4 a.m. and works 12 hours. If you want something, you go for it. Scared isn't the right word. I have had a lot of anxieties over the years about whether it was going to rain or the crop was ever going to come, but I was never really scared about doing it based on what other people told me," Adkins said.
Through the years, Adkins said he has experienced firsthand the struggles of a dairy with a midsize herd. To be profitable, many operations either have to grow exponentially or severely cut back and cater to the organic crowd.
"We could have sold cow shares. But I wanted to keep farming like I knew. I probably could have cut back to about 10 cows and grossed more money at the end of the year than with 100 cows," he said.
He also knows he could probably be making more money driving an eight-hour shift in an air-conditioned truck, and not having to deal with the constant pressure of running a farm – although that has been relieved some by having a business partner to share the load.
"It is just not like that. Your heart has to be in it. If it was just the money, I would have quit all the way. I wouldn't have relocated up here," he said.
Source: richmond.com