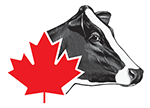 The announcement of the Master Breeder recipients has become an annual tradition at Holstein Canada, and this year is certainly no exception. Holstein Canada is pleased to announce the 21 Master Breeders who will be honoured at the 2019 National Holstein Convention Master Breeder Gala in Charlottetown, P.E.I. on Saturday, April 27, 2019.
Of the 21 breeders who received exciting news today, 66% (14) are first-time recipients of a Master Breeder shield, while the remaining are previous winners. The winners come from coast to coast, with breeders in six provinces receiving the Shield! Eight breeders are from Ontario; five are from Quebec; three are from British Columbia; three are from Nova Scotia; and one each from Prince Edward Island and Alberta.
Congratulations to the 2018 Master Breeder Recipients:
Benco Holsteins, Chilliwack, B.C.

Brabantdale Farms Ltd., Ottawa, Ont.

Francis Colin Campbell (Brookvilla), Cape Breton, N.S.

Cormdale Genetics Inc. (Calbrett), Cambridge, Ont.

Paul Martin Carroll (Carrollview), Milford, N.S.

Dari Delite Farms Ltd. (Daridelite), Sicamous, B.C.

Fleury Holstein, Victoriaville, Que.

Fermes Verhaegen Inc. (Front View), Clarenceville, Que.

Gerann Holsteins, Cardinal, Ont.

Hamming Holsteins Ltd., Vernon, B.C.

Ferme Rolandale enr. (Jolibois), Saint-Flavien, Que.

Stanley White (Kennetcook), Musquodoboit, N.S.

Wayne & Karen Martin (Marfloacres), Mount Forest, Ont.

Gert & Sonja Schryver (Marsfield), Stettler, Alta.

Misty Spring Holsteins, Little Britain, Ont.

Ferme Okadale Inc., Oka, Que.

Red Oak Farms, Oyster Bed, P.E.I.

Rodveil Holstein, Saint-Simon-les-Mines, Que.

Sprucecho Farms Inc., Moorefield, Ont.

Tim & Diane Groniger (Weeberlac), Carlsbad Springs, Ont.

Woodbridge Holsteins, Neustadt, Ont.

2018 Master Breeder Contact Information

Contact information for the winners is available on the Holstein Canada website. For more information, contact Steven Spriensma at 519-756-8300 ext. 234 or sspriensma@holstein.ca.

Since its beginning in 1929, the Master Breeder program has become the most coveted Holstein Canada award. Including this year's winners, 1069 Master Breeder shields have been handed out in the award's 89-year existence. These breeders are recognized for having mastered the art of breeding balanced cattle – high production and outstanding conformation with great reproduction, health and longevity. Congratulations to the 21 2018 Master Breeders who have joined the ranks of the most elite breeders across Canada!