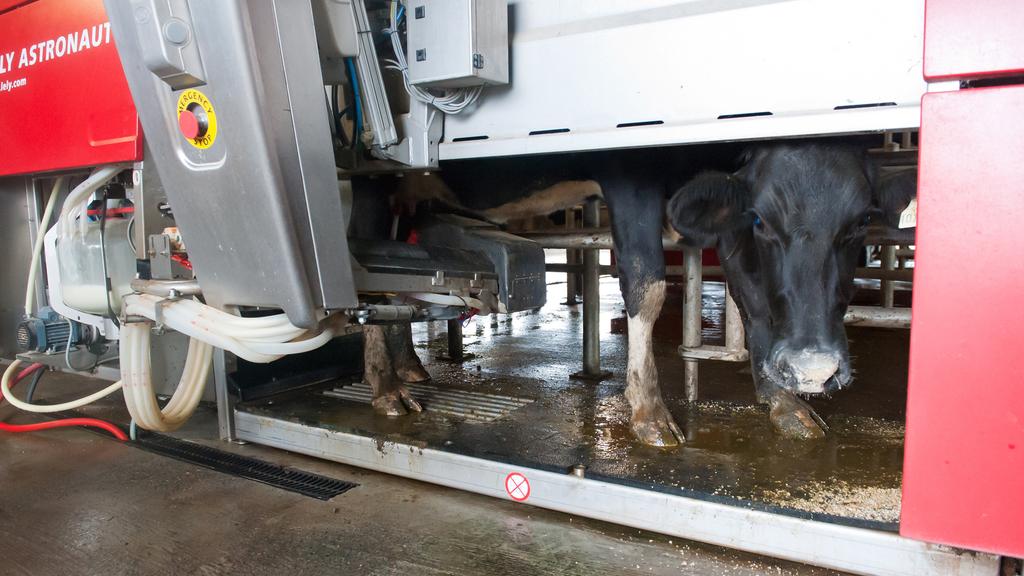 DAIRY Australia has spent $2 million over the past three years trying to slow the rate of dairy farmers abandoning ­robotic milking to less than 10 per cent a year.
DA's push, in partnership with milking machine manufacturer DeLaval, comes despite growing evidence that some of the 45 Australian dairy farmers who adopted voluntary robotic milking are ­battling to make it work on pasture-based systems.
West Australian dairy farmer Rob Giura, who has already decommissioned two of his four DeLaval robotic milkers, said he had battled for two years trying to milk a 250-cow herd, but had cut his losses and was now using just two robots to milk 80.
"Originally they quoted me three robots to milk 200 cows," Mr Giura said. "But we got a fourth, as we were planning on expanding to 250 (cows)."
He said the robots were unable to milk that number of cows, which was backed up by North American benchmarking studies that show robots each harvested 1100 litres of milk per day on pasture-based dairy farms. Even benchmarking studies of 12 Australian farms have shown an average of little more than 1200 litres/robot/day.
Mr Giura said the sums did not stack up when it came to investing in a robot that realistically could milk only 40-50 cows a day, at a cost $350,000-$400,000 (fully installed).
He said Dairy Australia had told him milk production might drop by up to 30 per cent during the transition from conventional to robotic milking, but it should recover within a couple of months.
"But we did not recover at all for two years," Mr Giura said, with milk production dropping from 9000 to 5800 ­litres (annual per cow).
"After two years we sold off the bulk of our cows and brought the herd down to about 80."
"The issue was you could not operate at the capacity claimed. The cost of servicing and maintaining them was just too high and there were constant problems."
Another east-coast dairy farmer, who did not wish to be named due the family seeking compensation from DeLaval, said he knew of three other farmers who had decommissioned their robots.
He said the family had given up on their robotic units after milk production had dropped from a 9000-litre average to 6500 litres.
"The robots were always breaking down and used a huge amount of water, chemicals and power," he said.
DeLaval Oceania vice president Justin Thompson said "the vast majority of our robotics farmers in Australia are getting the results they wanted".
"In the ten years since installing our first robotic system in Australia DeLaval has had two farms decommission their robots and we continue to work with new farmers who are installing robotic systems after seeing the benefits to other farms."
When asked why it was still investing in robotic milking a Dairy Australia spokeswoman said its role was to speed up the demonstration and introduction of new technologies.
Source: The Weekly Times