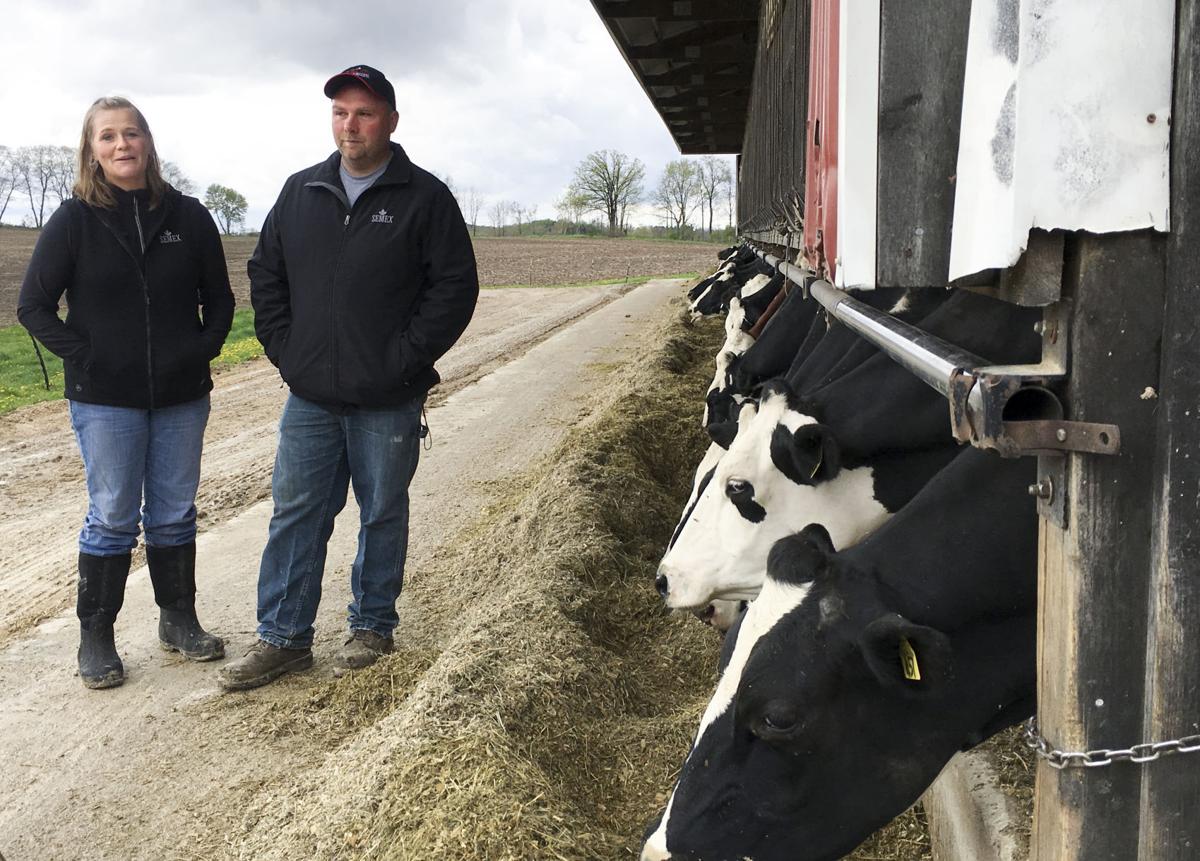 Life is back to normal for Waterloo dairy farmers Shane and Jennifer Sauer following an April they'd rather soon forget.
On Monday, milk produced by the Sauers' 120 cows began shipping to the couple's new processor, Rolling Hills Dairy Producers Cooperative in Monroe, which informed the couple five days ago it would take their milk under a long-term arrangement.
"Getting that call (from Rolling Hills) was the closest thing to our best day ever," Jennifer Sauer said Monday from her Waterloo farm, which hosted media from around Wisconsin and Canada as well as state dairy industry representatives to discuss the dairy crisis the state has faced the past month. "It was a huge relief."
State officials said Monday that 56 of the 58 affected Wisconsin farms had found new buyers, with 99 percent of the daily milk production thrown into limbo by Grassland's action spoken for. The nine farms in Minnesota that had sold to Grassland have found a new processor.
The Department of Agriculture, Trade and Consumer Protection will continue providing support to the affected Wisconsin dairy farmers still seeking buyers as well as offer consulting services.
Too much milk
The Sauers and some other dairy farmers initially didn't panic because they thought another processor would easily be found. That's how it always worked for the Sauers, both age 36, who were raised and had worked on dairy farms their entire lives.
But as the days passed and May 1 loomed without a buyer for their milk under contract, the Sauers became more concerned about the future of their livelihood. Processors were unwilling to take more milk because they already had too much.
Jennifer Sauer said her parents had experienced a similar crisis years ago but not to the extent of the current milk situation.
"Getting that letter (from Grassland) was very difficult but when phone call after phone call (to processors) repeatedly said no, that part was hard to choke," she said.
Wisconsin's dairy industry and the state rallied to the aid of the dairy farmers affected by Grassland's action. The state amended government loan programs to encourage processors to boost production and increase storage capacity while independent groups including the Dairy Girls Network launched grass-roots campaigns encouraging people to buy Wisconsin dairy products and donate them to food banks or similar programs.
The statewide support for farmers didn't surprise Karen Gefvert, director of government relations for the Wisconsin Farm Bureau Federation.
"Wisconsin has a great culture and long history with dairy farming," she said. "It was great to see so many people and groups come together to help these farmers connect with new processors and find solutions."
"This past month has shown how our dairy family can come together in challenging times," said DATCP Secretary Ben Brancel, who worked many years managing a dairy operation.
Lloyd Holterman, owner of Rosy-Lane Holsteins in Watertown, said he personally knows about a dozen farmers, including the Sauers, who were affected by Grassland's decision, all of whom have since secured new buyers. Holterman wasn't affected because he ships his milk to Waupun-based processor Saputo.
Holterman, who has been in the dairy business nearly four decades, has never seen a market in which producers cannot find a Wisconsin processor to take their milk. He recalled an initiative by former Gov. Tommy Thompson in the 1990s, which called for the state's dairy farmers to increase milk production to meet demands of the state's processors.
"So we've now increased milk production, but now our plants are full, so now the next step is to increase our processing capacity and keep working to find new markets for our milk and other dairy products," Holterman said.
Trade issues
Grassland had little time to react when it was informed by its Canadian customers they were discontinuing buying their ultra-filtered milk. The Canadian dairy industry instituted a new national ingredient strategy, which encouraged Canadian processors to buy ultra-filtered milk domestically and led to higher prices for the same product they had been buying from the U.S.
Ultra-filtered milk exports to Canada represented about $150 million in annual business to American dairy processors, with Grassland commanding about two-thirds of that business. While not regarded as a response to the dairy situation, the Trump administration last week placed tariffs on Canadian lumber exports to the U.S., foreshadowing what could be contentious talks with Canada, should the administration follow through on reopening negotiations on the North American Free Trade Agreement. NAFTA has been in place since 1994 and is meant to streamline trade between the U.S., Mexico and Canada.
The Sauers welcomed the call from Rolling Hills. In addition to getting back to work for their new customer, the Sauers say they will continue assisting in statewide efforts to help other dairy farmers who managed only to secure short-term deals for their milk and the handful of small operations still seeking buyers.
"Farming is a lifestyle, and we weren't ready to make the decision to stop farming," Jennifer Sauer said. "We want to help other farmers and those businesses that work with farmers to be successful."
Source: WiscNews