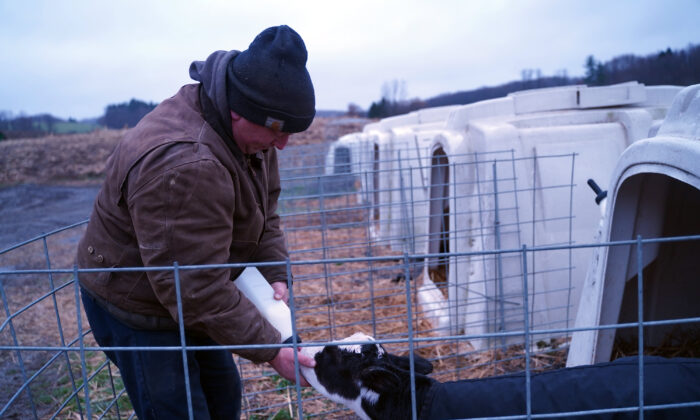 "If I hadn't done this, I'd have gone out of business by now," said dairy farmer Paul Fouts as he pointed to the new barn under construction on his property in central New York. It will help house the 150 new cows he recently bought.
When milk prices tanked a few years ago and he was in dire straits like so many other dairy farmers, he decided to throw everything he had at the farm.
He made big investments with borrowed money. He was already in debt and his bold move could have sunk him so deep he'd drown. Luckily, the best came of it—but even that isn't a resounding success.
He's able to keep up the payments on his loans and stay afloat. But he's $2.5 million in debt and he doesn't cherish hopes of a restful retirement; he's 46 years old now. He's not sure his children are interested in taking over the farm three generations have built. It's been a tenuous livelihood at best, and a gargantuan stress at its worst.
In 2015, Fouts's farm started operating at a loss. That was around the time milk prices dropped from about $25 to $15 per hundred pounds. For the next few years, prices stayed between $15 and $18. The major forces that kept the prices low were a sinking demand from China and a soaring supply from New Zealand and Europe, though numerous other factors impacted the industry in general.
Fouts's move to go big represents an overall industry trend. The number of small farms (less than 500 cows) decreased by 16 percent from 2012 to 2017. The number of larger farms (more than 500 cows) increased by 15 percent over the same period.
"So basically, it's a race to who is the cheapest producer and those that don't want to race go out of business," Fouts said. "And that's sort of why people shop at Walmart and not by the mom and pop stores that you see around—same forces at play."
"Not that anybody likes that," Fouts said. "Just the way it's been."
He recalled the pinnacle of desperation, one day early in 2018 when Farm Credit representatives came to his house and sat down at his kitchen table with him. They told him he'd exhausted his credit, the only thing keeping him afloat. At the same time, a major disease began to spread among his cows.
"So you go over to the barn and deal with a bunch of sick cows that are dying around you, and you come home … [and] look at the big pile of bills on the table, wondering how you are going to pay them," said Fouts. "There are a lot of sleepless nights."
Then he'd be up at 2:30 a.m. as usual to tend to the cows. "[When I] walk across the road and open the barn door, those cows, you know, every bit of their life relies on me," he said.
He enjoys the routine work; it's peaceful. About 4 a.m. is his best time for thinking. For a long while, it was his time to mull over the big problems on the farm.
He told himself, "You are not going to hard-work your way through it; you are going to think your way through it."
He planned it all out. He found weak points in the milking process and made plans to strengthen them. He decided to improve the barn—comfier cows would produce more milk. He decided to borrow against his life insurance to help pay the bills.
"The bank saw we were willing to put our own skin on the line and we are relatively successful and making it work," he said. He got funding for his rescue plan. The 150 cows he bought cost about $1,400 each, or $210,000 total. The cows are 2 years old, the prime age for milk production. And he's now milking his cows three times a day instead of two.
"Things are slowly getting better," said Fouts. He said some of these things take time—such as waiting for milk production to increase because the cows are more comfortable in the new barn. The cows will also slowly get used to being milked more often and will start to produce more accordingly.
"You're working with a biological system that you have to let nature take its course." If nature takes the expected course, he will break even on milk sales next year.
The expansion plan cost him between $400,000 and $500,000 and the total debt on his book has risen to $2.5 million. He is paying back the supplier bills as soon as he can because they carry a high interest rate, 18 percent. He hasn't paid back a dime on the loan against life insurance yet, which carries a rate of 8 percent.
His grandfather bought the family farm in 1937 during the Great Depression. It was "a rundown beat up farm," and he saw his grandfather "throw a heck of a lot of hard work to build it up."
"He quit school in the 8th grade to help support his family," Fouts said. "He always pushed me to work hard at school so I didn't grow up to be a 'dummy like him.' It was not until after he died that I came to appreciate how smart he was. All through my childhood, my grandparents, my parents, and I worked side by side. The farm always came first. You work until the work is done."
'Nothing Ventured, Nothing Gained'
Dylan Barber, 28, and his father own a small dairy farm 45 miles from Fouts, in Cortland, New York. During the milk-price crisis of the past few years, Barber has witnessed the closure of about six dairy farms within a 10-mile radius.
"In today's dairy world, you're pretty much left with, in my opinion, four decisions," he said. "You can either get bigger; you can either go out of business; you can either basically, you know, make it work or deal with it until prices go up; or you can diversify and try to find some other streams of income to bring into the business."
Barber chose the fourth option—diversification.
He was skimming through a magazine when he saw an article about the hemp industry. He was intrigued. The return on investment seemed fairly good, higher than milk and other cash crops like corn and soybeans. You can grow hemp for fiber, seed grains, or the cannabidiol (CBD) contained therein. Extracted CBD is used in some medicinal products to soothe pain.
CBD hemp yields the highest profit margin, so Barber decided to dabble in this market. In July, Barber became the first dairy farmer in his county to grow industrial hemp.
He started small, with 3 acres on his 400-acre farm dedicated to hemp. He hand-planted all 5,000 plants with the help of his family. "Being our first year, we decided that it didn't really make sense to go out and invest in a mechanical planter," said Barber, "We figured start out small and see how it goes."
"Nothing ventured, nothing gained," he said.
After planting, Barber only needs to walk the hemp field every day for an hour or so to make sure the plants are doing well. Then he goes back to the cows and works along with his father as before—he said dairy is still the number one priority for him. He barely breaks even on his dairy business. But he does break even.
In October, Barber harvested his hemp for the first time, and is currently working with his partner CSG Hemp to sell it.
New York Farm Bureau Senior Field Advisor Lindsay Wickham said "Hemp is the hot thing now, but has also been mostly disastrous in its infancy."
"Probably a quarter of people growing it will make some money," she said. Prices vary widely depending on growing methods and a number of other factors. She said some big players have not been honoring contracts.
Barber said he was aware of these risks and mitigated them through his contract with CSG Hemp, which did not require him to pay for the seeds upfront and includes incentives for CSG to get him a high profit. He's hopeful that even if he has to sell at the low end of the hemp prices, he will still earn more than he would have with other crops. He expects each pound of dried hemp to be worth at least $20.
If he can reap $10,000 profit from the three acres, he said he will expand to eight acres next year and maybe invest in a mechanical planter.
He was born and raised on his family farm. "When I was three or four years old, I was always playing with farm toys. I always wanted to be a farmer."
For him, it has always been rewarding to "wake up in the morning and step out the front door and you hear the birds chirping and the sun's rising, and you just get that good, fresh … smell of air."
Dairy farming in particular is close to his heart. "You got a cow that's going to have a baby and you get to bring new life into the world and then you watch it grow and have a baby of its own," he said. "We're not rich in our pockets, but we're rich in other ways. "
Sell the Cows, Save the Farm
Some of Fouts's new cows may once have belonged to Jordan Fleming. In September, Fleming and his father sold 70 cows, and the price they got was low. When they sold a bunch of cows in 2005, they got double the price they received this year.
For the past four years, the Flemings have been losing money on every pound of milk they've sold. It's been the worst chapter in the story of the Fleming family farm. They started talking about selling the cows a little over a year ago, but it took them a while to finally do it.
"Neither one of us really wanted to get rid of the cows, but it was kind of one of those things you almost had to," Fleming said.
Fleming believes he can do plenty of other, more profitable, things with his land. He now raises pigs and beef cows, and he grows sweet corn and pumpkins. He also decided to go back to school and pursue a degree in political science two years ago.
He has always had an interest in politics, and would like to find a job with the American Farm Bureau Federation or a similar organization. That would give him a stable off-farm income while allowing him to advocate for his industry.
He had left the farm he grew up on in 2005 to go to college, planning to go into forestry. But it only helped him realize farming is truly the life for him.
His favorite thing about being on the dairy farm is also the most challenging one—making a sick calf eat.
"They can't talk to you, they can't tell you what's wrong with them," said Fleming, and "it's a challenge to figure out how to make them feel better, to do what is [needed] to keep them alive." Over time, he's learned to tell what's wrong with a calf just by looking at it.
"You work for yourself really. And that's always something you will always miss," said Fleming, "You kind of make your own destiny really. You know, the harder you work, the better things will be—until you hit times like this."
The USDA reported in September that milk prices rose above $19 per hundred pounds, the highest they've been since the major dip in 2015. It's still not the $25 of better days, but it's hope. The U.S.-Mexico-Canada Agreement (USMCA), which has been signed by the leaders of the three countries but has yet to be ratified in their legislatures, would open Canada's dairy market wider to U.S. dairy producers.
While Canadian dairy producers have protested this aspect of USMCA, many U.S. dairy farmers are praying for it to go through.
Source: theepochtimes.com