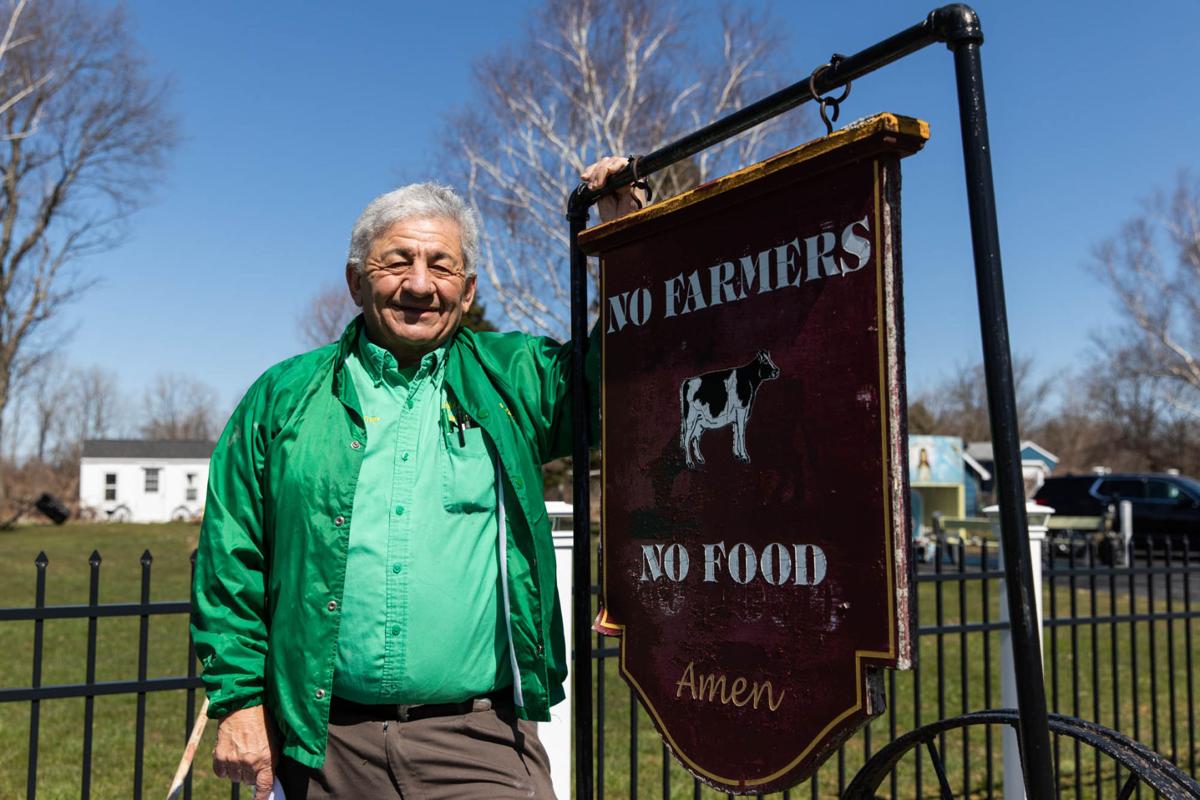 The owner of Field of Dreams Genetics Corp. here is taking a bullish attitude when it comes to helping dairy farmers and the downturn they're experiencing because of the COVID-19 pandemic.
The company, owned by Gary R. Tubolino, is providing bull semen at no cost to farmers who wish to get a cow bred. The three-month offer began early this month.
In the brawny business world of bull semen, it's all about numbers, names and results. Specifically in the case of these donations, Mr. Tubolino is providing the semen from bulls 91H4629 Alabama, 91H4602 Apache, 6H4283 Antonio, 91H4408 Gusto, 6H0075 Lance, 91H4489 Leader and 36H00346 Mars.
"A lot of farmers are dumping their milk," Mr. Tubolino said. "If we're going to keep them in business, we've got to help them out. They've helped me out over the years."
Mr. Tubolino plans to donate up to a total of 50,000 "straws," or units, valued at $20 a unit. A straw contains a specified concentration and volume of semen for a dose. The straws are frozen in steel tanks filled with liquid nitrogen.
The retail value of the total donation is $250,000.
The amount provided to a farmer, Mr. Tubolino said, depends on the size of the dairy operation. For example, he said a farm with 100 cows will likely require around 300 units for the year. In that case, Mr. Tubolino would provide a "straw" donation for a third of the year.
Once bulls are known to produce high-quality progeny, they are housed with an artificial insemination company that collects semen.
"We ship our bulls out to Utah, where they draw the semen and ship it back to us," Mr. Tubolino said.
Mr. Tubolino said his straws contain 50 million-to-60 million sperm count per straw. The industry average, he said, is much lower.
"We more or less make sure these cows are getting pregnant," he said.
Mr. Tubolino said a farmer asked him, that among the seven bulls in the donation program, which one he would choose.
"If I was milking cows, I would pick the whole of them," he said. "That's how good they are."
Mr. Tubolino, who owns Field of Dreams Genetics with his wife, Janet, is a former dairy farmer who found success in bovine reproduction. He left his family dairy farm nearly 50 years ago to seek to improve quality of dairy cattle.
Mr. Tubolino said many farmers who have found out about his offer simply can't believe it.
"They don't think it's true," he said. "I tell them it's true, because I've got the semen here, why not donate it? Why let it sit there?"
Dairy farmers must pick up the straws in person at Field of Dreams on Grove Street, and they must bring their own tanks. Usually, company employees go to the farms. But not with the current pandemic.
"These farmers can't let anybody in their place because it might affect their workers," Mr. Tubolino said. "A lot of these farmers have 30 to 40 guys working for them."
Jay Matteson, Jefferson County agricultural coordinator, called Mr. Tubolino's donation program "very generous."
"Semen can be expensive and depending on the genetic background of the bull, it can be very expensive," Mr. Matteson said. "It was a great idea he had and very nice of him to do that. I was very impressed with it."
Most dairy farms, Mr. Matteson said, use artificial insemination.
"It's the safer way to go," he said. "They can be a little bit more selective and a lot of farmers are using sexed semen, which gives them a higher percentage of females vs. males. With more farms doing artificial insemination, Gary's donation allows that farm to ensure that they're continuing milk production in the future."
The only time cows produce milk is after giving birth to a calf.
"Cows give milk for several months after they give birth to their calf," Mr. Matteson said. "But then they dry up. The cow is allowed a period of rest. After calving and milking, there's a period of time where the farm will rest that cow. And then they'll breed that cow back so that they can start that cycle over again."
The calf of the cow, Mr. Matteson said, either becomes a replacement for milk production on the farm, or if it's a male, it likely will go into beef production.
Mr. Matteson said that Mr. Tubolino is well known in the breeding industry, and he has seen him at the annual World Dairy Expo in Madison, Wis.
"Gary knows how to look for the better animals," Mr. Matteson said. "He'll work to purchase shares of those bulls that have proven themselves to have the right genetic stock to produce the best dairy cows."
But not even the best dairy cow can turn around the dire financial situation now faced by dairy farmers.
"Right now, the dairy industry is dumping anywhere between 65 and 100 million gallons of milk every week here in the U.S.," Mr. Matteson said. "I've been working in agriculture for 30 years. I would argue that this is the worst situation that the dairy industry has ever been in."
Most likely, Mr. Matteson said, there will be efforts to reduce milk production.
"One of the ways to do that is not having as many dairy cows on the farm," he said.
But that doesn't mean Mr. Tubolino's donation program is counter to that strategy.
"Dairy farms will still need to breed their cows back in order to continue their milk production cycle," Mr. Matteson said. "They just might cull out some of their lower producing cows and keep the better producing cows. Gary's service is essential to that."
When dairy farmers ship milk off the farm, its price is tallied at per 100 pounds of milk.
"The cost of production ranges between $18 and $10 per 100 pounds of milk shipped," Mr. Matteson said. "That's how much it costs to make what they ship. The projections we're seeing right now is that they'll get paid somewhere between $11 to $13 per 100 pounds of milk they ship. You can see it's not a money-making venture right now."
The current dairy crisis comes after five years of "horrible"prices for dairy, Mr. Matteson said.
"This is the perfect storm hitting the dairy industry," he said.
But he added that "every little bit helps" and that Mr. Tubolino's program is a way to assist farmers.
When Mr. Matteson heard about the Field of Dreams program, he paid a visit to Mr. Tubolino and made a short video that was posted April 4 on the Facebook pages of the company and the Jefferson County Agricultural Economic Development page. As of Thursday, it had nearly 6,000 views and more than 200 shares.
"That, for me on the agricultural side, is a viral video," Mr. Matteson said. "I didn't expect it to take off quite like that. I had people commenting on it who weren't farmers. They just really love seeing this happen. It gave people that uplift."
Mr. Tubolino said any dairy farmer interested in the program may call him at 315-405-1588. Pickup from 41 Grove St. is from 8 a.m. to 5 p.m. by appointment.
Source: nny360.com