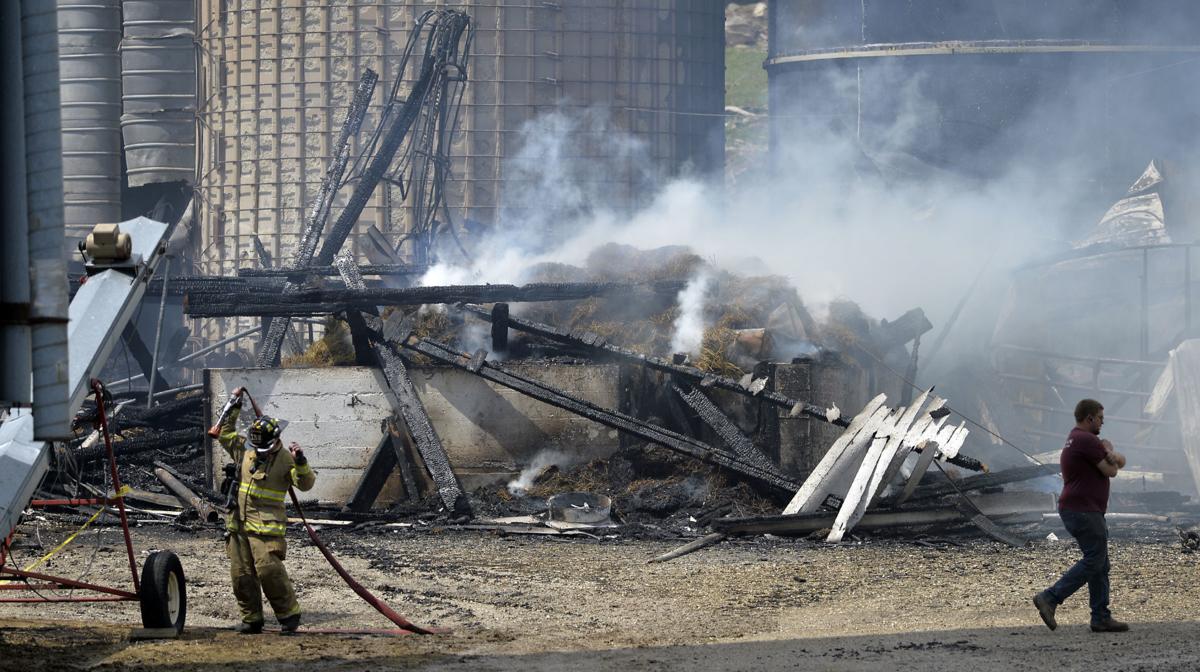 A 100-year-old family dairy farm in Wheatland was damaged by a fast-moving fire Tuesday.
The fire at the fourth-generation Herda family farm, 4602 Highway 83, Wheatland, reported at 10:32 a.m., destroyed the main barn and silos and damaged the family home.
Firefighters from throughout the region battled the fire, which was fueled by dry conditions and strong winds. The fire jumped Highway 83 and set nearby fields alight.
"Everything is lying in ruins right now," said Rachael Herda Crane, who grew up on the farm, now operated by her brother Ben. Fields to the east of the farm also caught fire as sparks carried by the wind hit dry vegetation.
Sgt. Mark Malecki from the Kenosha County Sheriff's Department said all of the dairy cows on the farm had been moved out of the barn and were uninjured.
"We're thankful that everyone is OK, and every (animal) is OK," Crane said.
Crane said the fire started in the main barn. The dairy cows were not in the barn at that time of day, but the family rescued calves that were inside.
"I got there about 10 minutes after the fire started, and none of the other barns were on fire at that point," she said.
But the farm buildings are close together, and strong winds carried sparks to other structures.
She said firefighters quickly put out the fire in the house on the property, but it was seriously damaged by water and smoke, and the family will not be able to stay there for now.
The Wheatland Fire Department called for mutual aid, and departments from as far away as Illinois to the south and near Milwaukee to the north sent firefighters and trucks. Tanker trucks raced back and forth bringing water to the site, emptying the trucks into portable tanks on the road.
"The fire department was great," Crane said.
Meanwhile, farmers from the area raced to the farm to help. The barn that was destroyed was a stanchion barn where the family farm's 90 cows were milked twice a day.
"These cows are going to have to be milked tonight," one farmer said, as neighbors worked to find a place for the herd to move. By Tuesday afternoon, Crane said, the cattle had been moved to a neighboring dairy farm.
The Herda family has been milking cows on the farm since 1908. The farm is now run by Ben Herda, who took over the dairy operation from his father John, and his wife Shannon. They are the fourth generation of the family to run the farm.
Hundreds of Kenosha County residents visited the farm for the Kenosha County Dairy Breakfast in 2015.
Source: kenoshanews.com