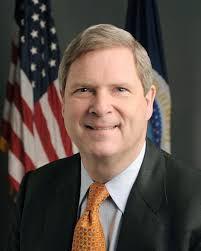 Former Ag Secretary Tom Vilsack addressed farm broadcasters at the National Association of Farm Broadcasting annual convention in Kansas City.
Currently the President and CEO of the U.S. Dairy Export Council, Vilsack said the dairy industry has reasons for optimism in spite of the Dean Foods bankruptcy announced this week.
"I think you have to understand that there is actually good news in the dairy industry, ninety-four percent of households in the US have fluid milk in their refrigerators. Butter is at a 50-year high consumption domestically, and cheese is at a record high domestically. We've seen increases in exports since we began our next five percent plan both in volume and in value. Value is up almost a billion dollars more than it was just a couple of years ago. And I think it's reflected in the fact that prices are at the highest they've been in five years. So I think we're beginning to see some rebound for dairy farmers."
Vilsack says the dairy industry has come a long way in recent months, and is also an industry that has embraced innovation.
Source: norfolkdailynews.com