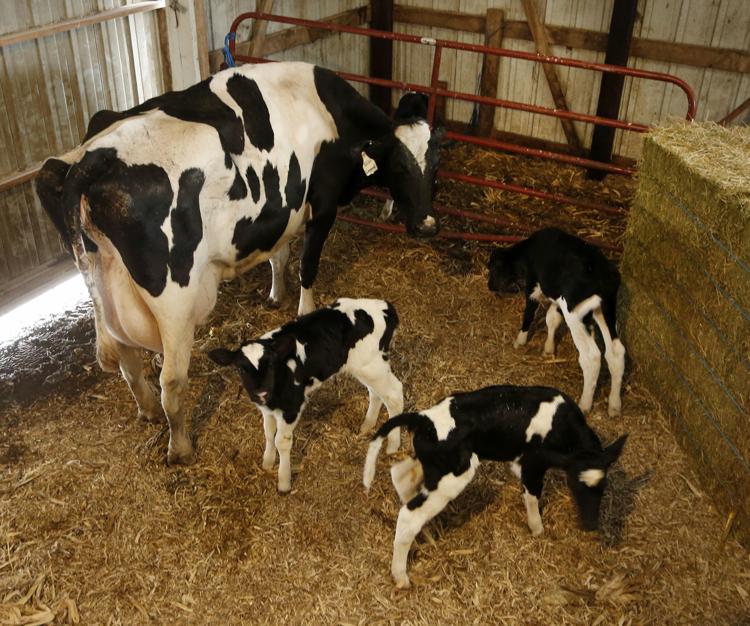 At just 7 days old, Live a Lot, Laugh a Lot and Love a Lot are already rambunctious, playful, healthy — and growing by leaps and bounds.
The rare triplets were born May 17 at Hansen's Dairy farm, the purebred Holstein offspring of 5-year-old Legend, said Blake Hansen.
"The odds of surviving triplets being born are 1 in 400,000, but I think the odds are higher because the triplets are heifers — all girls. They all came out facing the right direction, alive and thriving, which makes the odds even higher," he said.
Helping deliver the triplets "is probably the fourth-best thing that's happened in my life, besides getting married and having kids," Hansen said. "It's a rare occasion, a good accomplishment to have and it makes one feel really good. I've told my kids, nieces and nephews that they may never see this again in their lifetime."
Legend went into labor and delivered her calves while tour groups were on the farm. "They got the full hands-on experience, and two tourists got to help deliver the first two calves," Hansen said.
He had performed an ultrasound on Legend about 45 or 50 days into her gestation and believed she was pregnant with twins. "The third one was hiding," he said.
Like a human mother, a cow's gestation period is 40 weeks. In the last 20 years, the Hansen farm has had only two other cows pregnant with triplets and neither set was carried for longer than five months before miscarriage.
"This was Legend's fifth time to calve, so she knew what she was doing. I always want to be there for the births, to check and make sure the calves are not breach. If one twin is facing forward and one is backwards, that's not good. But they were all facing the right direction," Hansen said.
After the first two calves were born, Hansen admits he was surprised when the third one began to make its appearance.
It's unusual to weigh the calves at birth, but he couldn't resist.
"Two came in at 85 pounds and another at 80 pounds — that's 250 pounds of babies. Legend carried these babies just six days from full term, which also is unusual, especially with three babies," the herd manager explained.
Mama Legend, who is the daughter of a twin herself, is doing fine. The triplets' sire is Glory-Road M Apple Crisp-ET, and he is the first bull Hansen has bred that was sent to stud.
The babies will be bottle-fed to make sure they continue to thrive.
"It takes two years for them to get big enough to enter the milking stream. Keeping them alive and healthy will be another huge accomplishment."
Source: wcfcourier.com