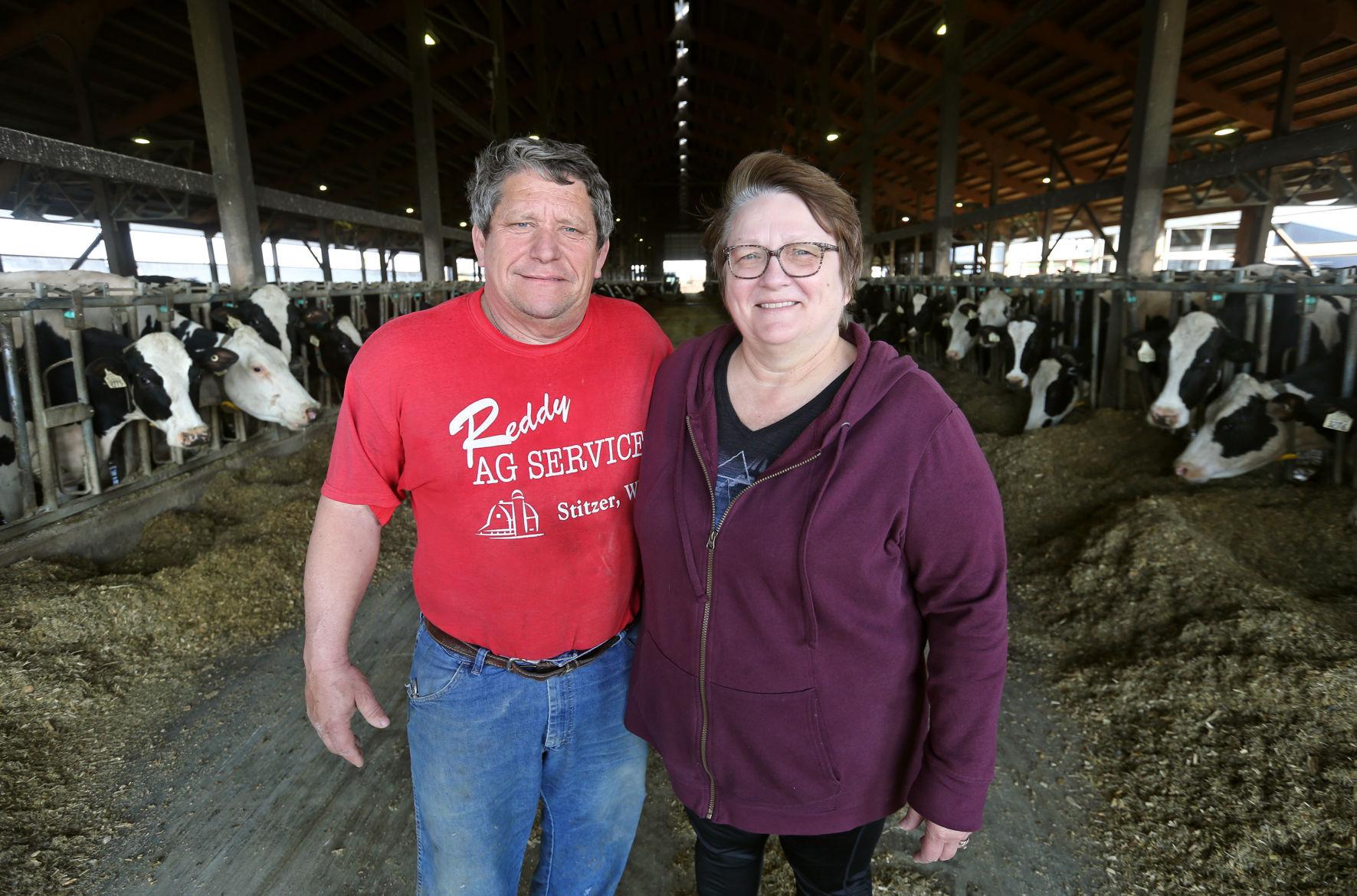 Pat Schroeder was optimistic that 2020 would be the year the dairy industry turned things around.
The Lancaster farmer, who milks 400 cows with his son and son-in-law, for the previous five years weathered depressed milk prices, unfavorable weather and a trade war that closed off overseas markets.
Then the COVID-19 pandemic struck, disrupting supply chains as schools and restaurants — major consumers of dairy products — shuttered to prevent further spread of the coronavirus.
"We were at our wit's end," Schroeder, 60, said.
Federal relief came to farmers across the country through the Coronavirus Food Assistance Program and, later, Paycheck Protection Program loans.
The Schroeder farm obtained $376,000 from both programs.
"If we wouldn't have got CFAP money from the government and if we wouldn't have gotten the PPP loan, our operation would either file bankruptcy or we would be out of business," Schroeder said.
Congress authorized a second round of PPP funding in December, an allocation of $284 billion.
But it imposed stricter eligibility requirements compared to the previous round, limiting applicants to businesses with 300 or fewer employees that lost 25% or more in gross income in 2020 compared to 2019. Business owners have until May 31 to apply.
To date, at least 6,164 PPP loans of less than $150,000 have been issued to dairy farms in Wisconsin. In Iowa, at least 1,256 loans were issued to dairy producers to date and just 44 in Illinois.
But the 25% requirement has disqualified many farmers, who are unable to demonstrate a loss that high for reasons they attribute to economic hardships that predated the pandemic. Such was the case for the Schroeders.
Charles Brown, farm management specialist with Iowa State University Extension, said he receives five to six phone calls a day inquiring about the status of PPP, generally from grain and hog farmers.
"Since 2013 up until 2019, farm income had dropped about 50%," he said. "There is a period of years in there where profitability was very low."
With pre-pandemic revenue already down, demonstrating further losses challenged many dairy producers.
"2019 wasn't a good year," said Larry Shover, a dairy farmer in Delhi, Iowa, and president of the Iowa State Dairy Association.
His 100-cow dairy farm qualified for the PPP program during the first round of loans but did not qualify for the second.
"We were looking forward to '20 being better," Shover said. "Then, with the trade thing and then COVID piled on top of it, it wasn't the way we ordered it. If (revenue declines) too much lower, then that farmer is going to quit making milk and be out of business."
Another factor was a bump in income farmers experienced in 2020 after receiving federal aid. Markets also showed signs of improvement by the end of the year.
But looking at gross revenue does not consider a simultaneous jump in expenses farmers experienced, said Wis. Rep. Travis Tranel, who operates a dairy farm in Cuba City.
He is spearheading state legislation that would provide relief grants to mid-size farmers who experienced financial hardship during the pandemic.
"The problem with that when it comes to ag is they don't take into consideration that (the cost of) diesel fuel is a lot higher now than it was a year ago," he said. "Fertilizer is a lot higher now than it was a year ago. It's impossible to find labor now compared to a year ago."
Shirah Apple, public affairs specialist with Wisconsin district office at the U.S. Small Business Administration, said the agency has no control over the requirements. Altering it would require a change to the law, she said.
Schroeder appreciates the government assistance, but believes a preferable solution would be to adjust the way milk is priced.
Farmers receive milk checks based on a weighted average of milk values in four classes, each of which is used for different products, including beverage milk, yogurt, cheese or butter.
Other variables also are included in the calculation, which factor for price differences among classes. Under some circumstances, farmers can see a deduction from their total payment based upon price differentials.
Market volatility in 2020 resulted in higher deductions.
Schroeder said his annual deduction totaled $470,000, well above the federal assistance the business received.
"I would give anything if I didn't have to rely on getting a check from the government," he said. "Maybe the only good thing that came out of this was that people had some respect for agriculture. … We try to produce what the consumer wants, but sometimes, I wonder, are we taken for granted?"
Source: telegraphherald.com