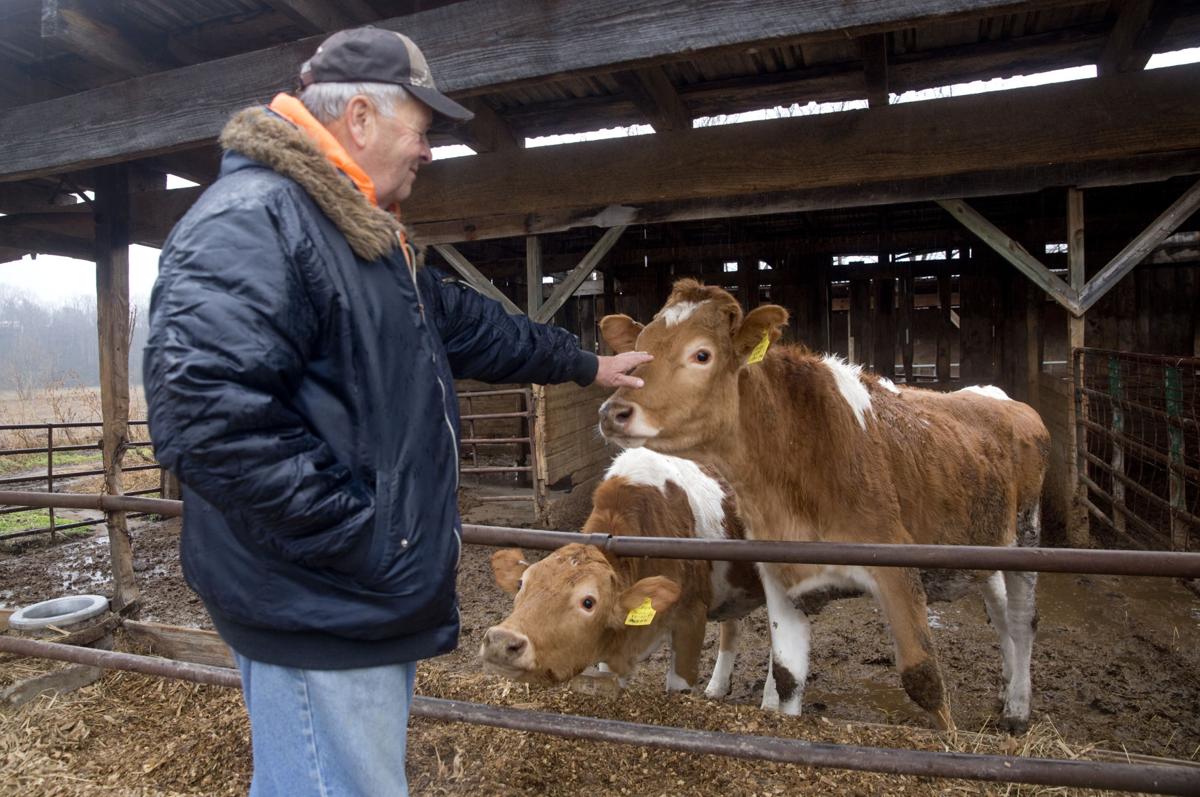 Callaway dairy farmer Cline Brubaker's process of gradually allowing his herd to shrink was completed this fall when he sold off the last of his milking cows.
The lifelong dairy farmer — he bought the Blackwater Valley Farm, which is on the state's list of farms that have been in operation for at least 100 consecutive years, from his parents in 1967 — said he decided to leave the industry in part because of hard economic times and also because of his age. Brubaker will turn 75 in March and was ready to retire.
Earlier this year, The Roanoke Times reported that dairy farmers across the country and locally in Franklin County were struggling with a prolonged period of low milk prices. As 2018 comes to a close, little has changed.
" Unfortunately 2018 has been a very challenging year for the industry from beginning to end," said Eric Paulson, with the Virginia State Dairymen's Association.
Virginia's dairy losses over the course of 2018 amount to approximately one a week, Paulson said, which is about 10 percent of the dairies in the state. He noted the issue is not unique to Virginia.
Rumors are constantly swirling throughout the farm community about who will shut down their operation next, Brubaker said. They circulated about him before his remaining milk cows were sold.
Brubaker said his last day milking cows, something the farmer has done all his life, was Sept. 13. He's begun to sell off some of his land as well, just recently finalizing a deal to sell 53 acres.
Though Brubaker had an emotional attachment to his cows and land, he said dairy farming is like any other job. Few people are willing to work without pay.
" I do it for the money and if the money's not there, why do it?" Brubaker said.
Farms like Brubaker's are growing more rare. Data from the National Milk Producers Federation show that a significant portion of U.S. milk comes from farms with large herds.
In 2017, farms with herds of 500 or more cows made up 68 percent of U.S. milk production.
Brubaker's farm had as many as 90 cows in the past, but earlier this year his herd was down to about 30. Farms of that size — herds between 30 and 49 cows — made up only 2.6 percent of U.S. milk production in 2017.
Brubaker said his dairy barn was built in 1938 and renovated in 1973. It was "fairly traumatic," he said, when the machines that had run for so many years stopped for good.
" They won't be run again because it's not economical for someone to come in here and purchase it and make a go of it on a small farm," Brubaker said.
The longtime farmer said he's adjusting to his new normal, but it's strange. Every day of his life — cows are still milked on weekends and holidays or when it snows — he'd gotten up and cared for them. Now, there's just a few heifers for him to check on.
" Life is not always a big joyful thing," he said. "You have your ups and you have your trials, too."
Cynthia Martel, a cooperative extension agent who specializes in dairy, said Brubaker's is just one of a handful of Franklin County farms that have shut down this year.
" They're struggling," she said.
The uncertainty and instability can cause stress and depression for farmers, Martel said. She just recently participated in an all-day mental health workshop, and plans to do additional training to spot the signs and direct farmers to resources.
" That's not something you'd think as an extension agent you'd have to do," Martel said. "But that's what we're going to have to start doing."
In speaking with farmers, Martel said it's easy to see the toll industry problems are taking both mentally and physically.
Paulson said there are some indicators that things could begin to improve in 2019. But the period of low milk prices has been so prolonged — four years at this point — that he said "it would really take a phenomenal year to make up for it."
Dairy farmers are also waiting to see whether they'll be positively affected by the new farm bill, signed by President Trump just last week. Paulson said there are still many unknowns and dairy farmers are "wary but hopeful."
One bright spot for the industry is the launch of the Milk for Good campaign by the Federation of Virginia Food Banks, in partnership with dairy groups. The initiative will increase fluid milk donations to food banks around the state, Paulson said, providing the nutritious product to families in need and giving farmers a home for their milk.
Source: martinsvillebulletin.com