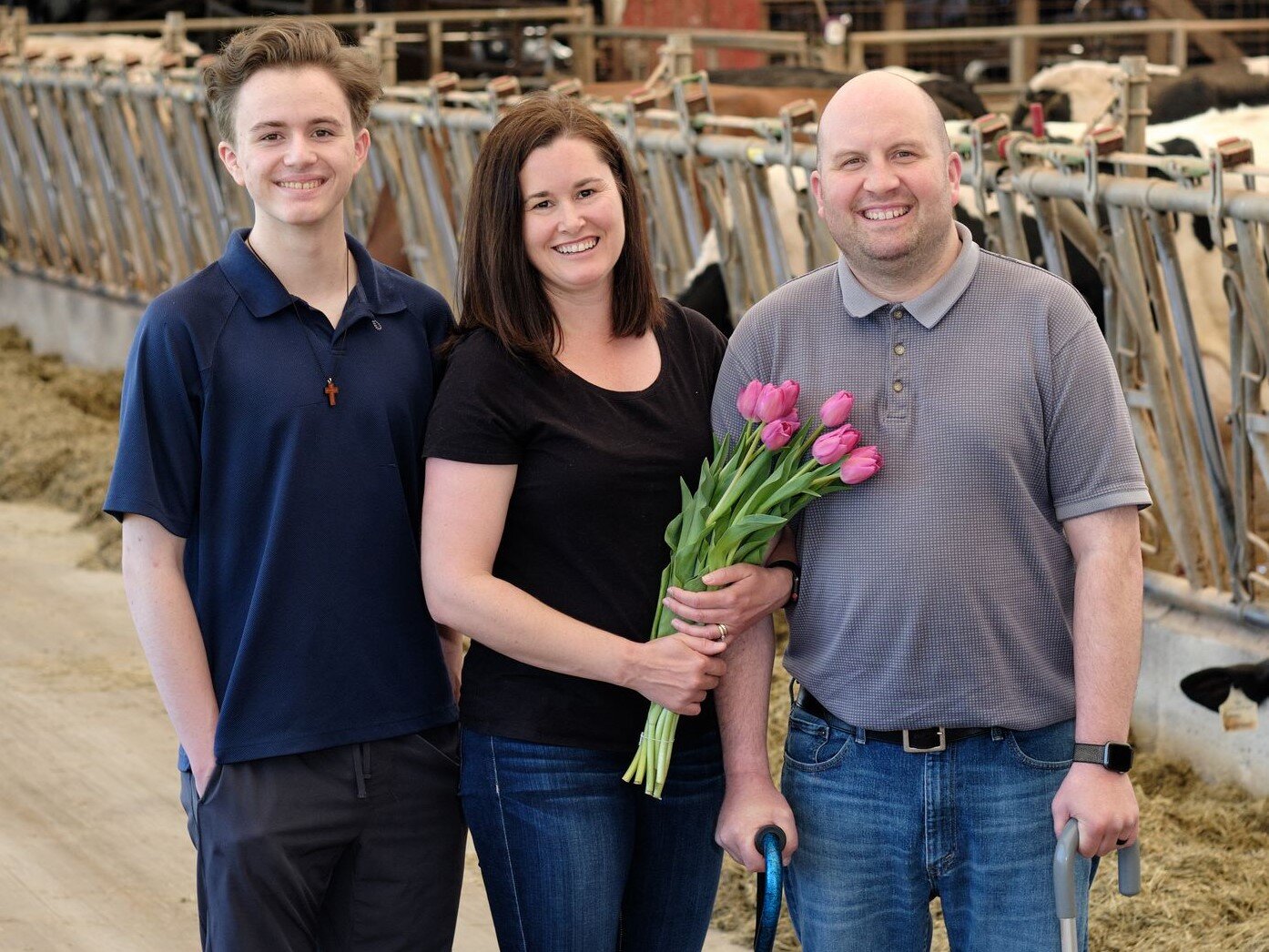 Remnants of the COVID-19 pandemic still linger on Prince Edward Island, with all of the social distancing, limited visiting, and figuring of bubbles.
Despite that, Amy Bysterveldt of Winterbay Farms in Bedford, P.E.I., found a way to honour Derwin and Janet Clow of Lower Freetown on their last day on their award-winning dairy farm, Cassialane Holsteins, on June 4.
A parade of well-wishers drove past the family farm that the Clows decided to sell because Derwin was diagnosed with an aggressive form of multiple sclerosis (MS).
It's a farm that provided Derwin and Janet, and Derwin's parents, grandparents, and great-grandparents a living for generations.
"Derwin's father, Colbourne, was well respected in the dairy community, and Derwin certainly filled those shoes," said Bysterveldt.
Bysterveldt and her husband Jeff farm 100 acres on their own dairy operation, and she pointed out that everyone in the Island's dairy industry gets to know each other through local, regional, and national meetings and conferences. "(Derwin) is definitely a mentor to anyone new entering the dairy farming business," she said.
Marleen Wolfe, the real estate agent who sold the Clow farm, approached Bysterveldt about doing something special for the Clows on their final day on their farm.
"I was quick to jump on board," said Bysterveldt. "Marleen is known for going above and beyond. She recognizes that it can be tough to give up a farm."
Bysterveldt said she and Wolfe texted and called as many of the Island's dairy farmers as they could get a hold of to plan a farewell parade. "All dairy organizations were certainly on board," said Bystervedlt.
"This is a nice Island family with deep roots," said Wolfe, adding that all too often farmers are not recognized when they retire. "Some just sell their quota and close up the farm, and that is sad. I wanted to do something a little more lasting than just a cheque on closing day."
The result was a long parade of cars, trucks, and tractors – with people waving and calling out – that wound its way past the Clow farm as the couple sat on their patio with their son Evan, and Derwin's mother Blanche and his sisters Darla and Julie.
Wolfe said more than 100 vehicles and an estimated 130-140 people turned out for the parade honouring the Clows. "It was remarkable," she said.
"Some of the dairy farmers who showed up had fields (of silage) cut," said Bysterveldt. "They were about to start baling, so they just jumped on tractors and joined the parade."
She said they all understood how it would feel to leave the dairy industry for health reasons.
Derwin was diagnosed with MS in February 2019. He said he kept working the 90-head dairy farm, milking seven days a week, until he couldn't.
"I knew something severe was wrong for a couple of years, but nobody could figure out what it was," he said. "It's an aggressive type of MS, so the writing was on the wall."
He said that he, his wife, and their son agonized over parting with the family farm and the house that Derwin grew up in. He said it was like a grieving process.
"After the grieving, we came to the decision we were going to sell and listed the farm just before Christmas," said Derwin, adding that they didn't sell all of their land to the eventual buyer. "We have some acres across the road."
He pointed out that their son is just 16. "He couldn't run a dairy farm," said Derwin. "We'll support him in whatever his vocation is."
He added that Cassialane Holsteins could never have achieved all it had without many wonderful employees over the years.
Derwin, Janet, and Evan are now living in Darnley and will move to Summerside in the fall.
"Nobody knows what's going to happen," said Derwin. "There is a high probability I'll be in a wheelchair."
Janet said it's a lot to handle and they are taking it day by day. "We have had to brace ourselves for the sale of the farm," she said. "But that day of the parade, it had hit me that this was final. I cried."
Derwin said that it was touching to see all the vehicles parading past their farm, with everyone honking and waving as they went. "We couldn't have asked for anything better on our final day on the farm," he said. "It was a complete surprise and a very emotional time for sure."
Source: atlanticfarmfocus.ca