Australian trade negotiators will push China to match dairy trade concessions made to the United States in a landmark trade deal, as Australia's $4 billion dairy industry looks to ram itself into the world's largest market.
As part of phase one of its trade deal with the China, the US secured relaxed inspection, licensing and technical regulations on dairy products in what analysts have described as one of the more substantial concessions of the negotiations between the two superpowers.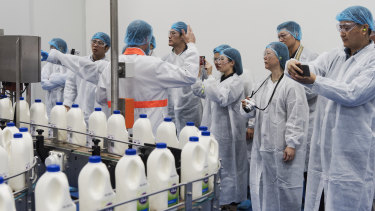 The same regulations have hampered Australian dairy exporters. In June up to $1 billion was wiped from shares in a2 Milk after China announced tougher restrictions on importing baby milk formula in a bid to bolster its local market.
Yun Jiang, co-editor of China Neican and a former federal public servant, said it appeared unlikely the same treatment will be extended to products from other countries given the clauses specifically refer to US regulators and "Australia may be adversely affected by this trade deal".
The negotiations have become more urgent as the Chinese economy slows to its lowest rate of growth in 29 years and Australian producers like a2 Milk compete with global companies for a share of China's burgeoning middle class.
Official figures released on Friday showed China's economy grew by 6.1 per cent in 2019, as the trade war with the United States hit business and consumer demand. The rate still places it well above western economies and remains within the Chinese Communist Party's target range.
Trump, China sign 'Phase 1' of trade deal
President Donald Trump signed a trade agreement Wednesday with China that is expected to boost exports from US farmers and manufacturers and is aimed at lowering tensions in a long-running dispute between the economic powers.
Trade Minister Simon Birmingham said Australia "would expect common regulatory standards to operate without favouring the US over other nations". He said he would also be encouraging other counterparts to make that point to China.
"Australia always encourages trading partners to remove unnecessary non-tariff barriers, and as far as this deal leads to a reduction in administrative barriers, we would welcome it," he said.