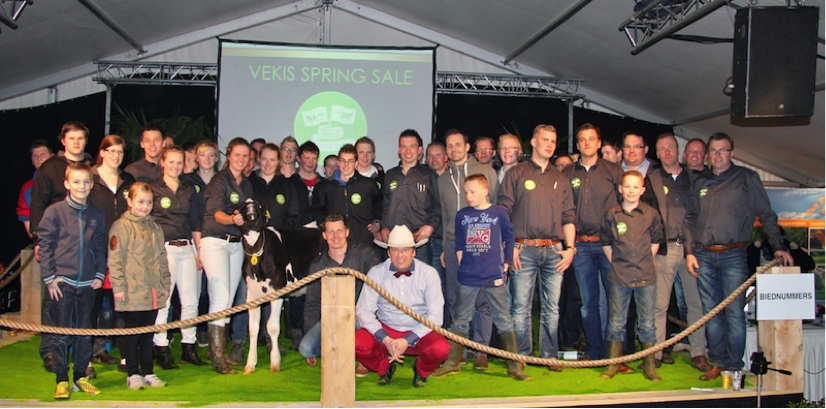 Topseller with the consignor, buyer and the Vekis Spring Sale team
The 1st Vekis Spring Sale, held last Friday March the 28th in Nunspeet (The Netherlands) have been a great and very successful event. Around 1000 visitors from all over the World travelled to Nunspeet to see the progeny groups and visit the sale.
The sale was led by the auctioneer Eric Lievens from Belgium and the American pedigree reader Roger Turner. 65 lots came in the sale ring and sold for an average price of € 7.602 to buyer out of 10 different countries! The prices in the sale for the females were in the range from € 1.700 till € 70.000
Lot 3 in the sale, HS-NH Mercedes was the topseller in the sale for € 70.000. Mercedes is the highest RZG heifer ever tested in Germany with RZG 170 and also test over 2400 GTPI! She is a daughter of Vekis Chevrolet and has a Sudan grand- and Xacobeo 2nd dam followed by the famous Caps Mairy 4. Anderstrup Holsteins from Denmark and Diamond Genetics purchased her together.
LOT
Description
Price (€)
1
Snowbiz Classy
(McCutchen X MS Chassity Snow Carrie VG-87 2yr) GTPI +2222 GLPI +3162
11,400
2
Vekis Xaco Melody VG-85 2yr
(Xacobeo X Caps Goldwyn Mairy 4 VG 2yr)
3,000
3
HS NH Mercedes- #1 RZG hfr in the world RZG 170- sold with 70,000 contracts
(Chevrolet X Vekis Sudan Mellow) GTPI +2414, DGV LPI +3370
70,000
4
DG My Love
(Supersire X PG Mylady) GTPI +2369 GLPI +3306
11,200
5
Caps DG Plati Mairy
(Platinum X Caps Mairy 14 VG 2yr)  GTPI +2311 GLPI +3077
7,500
6
Vekis Deborah
(Supersire X Broeks Daisy VG 2yr)  GTPI +2210 GLPI +3111
2,000
7
Vekis Larona
(Latimer X RR Polly VG-86 2yr) RZG +151 GTPI +2200 GLPI +3246
15,000
8
Vliek MC Mitty P #10 Polled hfr in Europe
McCutchen X Pine-Tree 1258 Mity 4711 VG 2yr) GTPI +2197 GLPI +3120
10,000
9
Roccafarm Beacon Chrissy VG-86 2yr #1 GTPI Beacon in Europe
(Beacon C Larcrest Chenille VG-86 2yr) RZG 145 GTPI +2246
5,100
10
DG Christa
(Galaxy X Roccafarm Beacon Chrissy VG-86 ) RZG 154 GTPI 2220 GLPI +3127
9,000
11
DG Christine
(Snowmaster X Roccafarm Beacon Chrissy VG-86 ) RZG 149
4,600
12
Snowbiz Galaxy Luna #2 RZG Galaxy in the world
(Galaxy X Freurehaven FGS Lucy VG-88 2yr) RZG 159 GTPI +2316
17,000
13
Snowbiz Galaxy LouLou
(Galaxy X Freurehaven FGS Lucy VG 2yr)  GTPI +2424 GLPI +3384 RZG 152
19,800
14
DG Liquid Hue
(Liquid Gold X Cookiecutter MOM Hue VG-88 2yr) GTPI +2341 GLPI +3372
8,200
15
Anderstrup Freddie Barb VG-86 2yr
(Frediie X B-A-M Mac Banjo VG-86 2yr) GTPI +2004
3,700
16
Vekis Belle Helene
(Massey X Anderstrup Freddie Barb VG-86 2yr) GTPI +2220
3,100
17
RZH Pretonia P
(Shotglass X Butlerview Colt Pixie P) GTPI +2221 GLPI +3096 RZG 148
16,000
18
Anderstrup Supersire Eva
(Supersire X Hood MOM Evelyn VG-89) GTPI +2238 GLPI +3169
3,400
19
DG DV Lynda
(Chevrolet X  RZH Lynn) GTPI +2291 RZG 155
9,000
20
DG Lillico
(Morgan X Ven Dairy Lydia 4 VG-86 2yr) GTPI +2203 GLPI +3191
1,800
21
De Sanderij Kelly P Red
(Kanu P X Sanderij Massia Elke  Red)
11,000
22
Tirsvad Freddie Cosmopolitan VG-85 2yr
(Freddie X Larcrest Cosmopolitan VG-87) GTPI +2066
4,600
23
DG Candace
(Mogul X Larcrest Cale VG-89) GTPI +2230 GLPI +3121
9,000
24
HS Perfect Poll P Red
(Aiko X PG Mrs Colt PP) GTPI +2045
5,600
25
Huyben Shotgl Elaine
(Shotglass X Rainyridge RZH Planet Elaine VG-88 2yr) GTPI +2179 GLPI +3091
2,200
26
DG Mandy
(Lithium X Leaderwin Observer Memory VG-86 2yr) GTPI +2137 GLPI +2817
2,100
27
JK Eder Caminde #1 RZG Fanatic in the world
(Fanatic X Zandenburg Snowman Camilla VG-88 2yr) GTPI +2286 RZG 160
23,000
28
JK Eder Camilla
(Denim X Zandenburg Snowman Camilla VG-88 2yr) RZG 146
2,600
29
Vekis Champignon
(Atwood X RR Larcrest Colorado VG-86 2yr) GTPI+2013  GLPI+2756
2,700
30
Brühlhofs Freddie Baileys VG-85 2yr
(Freddie X Farnear TBR Shottle Bailey VG-87 2yr) GTPI +2136
3,900
31
SG DG Shotglass Baileys
(Shotglass X Brühlhofs Freddie Baileys VG-85 2yr) GTPI +2246 RZG 152
3,800
32
SG DG Willpower Baileys
(Willpower X Brühlhofs Freddie Baileys VG-85 2yr)
2,000
33
Snowbiz McCutchen Lucky
(McCutchen X Freurehaven FGS Lucy VG 2yr) GTPI +2260 GLPI +3005
5,500
34
Snowbiz Supersire Lucette
(Supersire X Freurehaven FGS Lucy VG 2yr) GTPI +2153 GLPI +3118
2,400
35
Vekis Madame
(Chevrolet X Vekis Xaco Melody VG 2yr) GTPI +2293 GLPI +3074
6,800
36
Vekis Sudan Mairy
(Sudan X Vekis Xaco Melody VG 2yr) GTPI +2112 GLPI +2858
7,900
37
Vekis Prudence RDC
(Aikman X Holbra Manoa VG 2yr) GTPI +2079 RZG 149
3,600
38
DG Dym Samara P RDC
(Earnhardt X Capnation SoSecret P Colt) GTPI +2101
3,600
39
Veneriete Ida 88
(Fanatic X Veneriete Shottle Ida 6 VG-86 2yr) RZG 150
4,200
40
Not Forward
41
JK Eder DG Cinderella 2
(AltaOak X JK Eder DG Cinderella 1 VG-88 2yr) GTPI +2252 GLPI 3160
3,000
42
RZH Mad Season 4
(Galaxy X FlyHigher Snowman Marge) RZG 153
10,200
43
Not Forward
44
Vekis Elba
(Maximum X Broeks Eltes VG-86 2yr) GTPI +2174 GLPI +3068
2,000
45
1st Choice Atwood X Tri-Day Ashlyn 2 RDC VG-87 2yr
Potential RDC choice of 2 calves
4,000
46
KNS Rimini
(Galaxy X KNS Rendezvous VG 2yr) GTPI +2293 GLPI +3322 RZG 153
7,000
47
Peak Breeshia P Red 8287 #2 GTPI Predestine in Europe
(Predestine X Ven Dairy Breeshia) GTPI +2407 GLPI +3315
11,600
48
Caps Doorman Maxima
(Doorman X Caps Maxima VG 2yr) GTPI +2190 GLPI +3067
3,300
49
Vekis Phantastic VG-87 2yr
(Xacobeo X RR Polly VG-86 2yr) GTPI +1949
4,200
50
Vekis Paiva
(Boss X Vekis Phantastic VG-87 2yr)
14,000
51
Vekis Philomena
(Bookem X Vekis Phantastic VG-87 2yr) GTPI +2185 GLPI +3030 RZG 147
6,600
52
Holbra Lady Snow
(Snowman X Holbra Bolton Paulona VG 2yr) GTPI +2096
5,600
53
Vekis Mandy
(Jackson X Vekis Xaco Melody VG 2yr) GTPI +2173 GLPI +2871
4,000
54
JK Eder Snowpolly 2 RDC P
(Fanatic X SnowPolly RDC P) GTPI +2149 RZG 141
6,000
55
Vekis Chelsea
(Supersire X RR Larcrest Colorado VG-86 2yr) GTPI +2381 GLPI +3272
14,000
56
Vekis Elsie
(Doorman X FG Elsie 13) GTPI +2273 GLPI +3186
5,300
57
Hul-Steins Sweet 2
(Picanto X JK Eder Sweet) RZG 152
2,600
58
Twin Tasiah
(Snowmaster X Ralma Planet Tabea VG 2yr) RZG 144
1,900
59
Not Forward
60
Twin Nellie
(Galaxy X Nele VG) RZG 148
2,100
61
Terbeek Glenda  9763 VG-86 2yr
(Bogart X Terbeek Glenda 7340 VG-88) GTPI +2089
3,300
62
Not Forward
63
Snowbiz Supersire Lindsay (sold in absence)
(Supersire X Silverridge Snow Lizzie GP-83) GTPI +2059 GLPI +2978
2,100
64
Not Forward
65
1st Choice female Balisto X Vekis Paige
Dam was the highest RZG hfr born in 2012!!
36,000
66
Vekis Pansy
(Maxim X RR Polly VG-86 2yr) GLPI +2816 RZG 143
3,000
67
Vekis Perfect
(Lexor X RR Polly VG-86 2yr) GTPI +2076 GLPI +3005 RZG 145
2,800
68
BULL- DG Ludovic
(Morgan X Ven Dairy Lydia 4 VG-86 2yr)
700
69
BULL- SG Snake
(Willpower X Brühlhofs Freddie Baileys VG-85 2yr)
900
70
BULL- Vekis Everlast
(Bolton X Broeks Elsie 2)
900