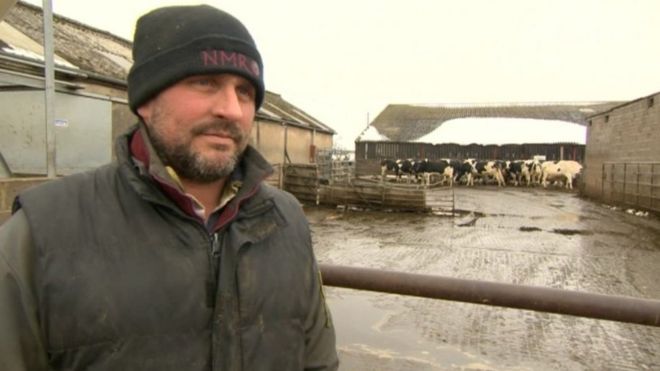 A farmer from Somerset says he has had to throw away more than 8,000 litres of milk because lorries were unable to collect it during the snowy weather.
Mark Wareham said tankers were unable to get "anywhere near" Sunnyside Farm in Trudoxhill, near Frome for two days.
Somerset was one of the worst-hit areas when Storm Emma hit the UK on Thursday.
Mr Wareham said he was hopeful trucks would be able to reach him on Saturday evening but said any more problems would severely hit his business.
He said: "These are pretty extreme conditions that we've experienced – it's been a challenge for everybody.
"The lorries physically couldn't get anywhere near the farm. The roads on the way were blocked and I've only got capacity to store 5,000 litres on the farm and I produce just over 4,000 every day, so I don't have enough to store for several days on end."
Mr Wareham, who keeps about 150 cows, said he would be covered on his insurance for the two days but would not be compensated for any further problems.
He said: "It's a massive impact – dairy farming is tight enough and hard enough is without losing money, but what can you do? You've just got to get on with it.
"We're expecting the tanker to get to us tonight – they've been excellent, on the phone to us every day to keep us informed."
Source: BBC