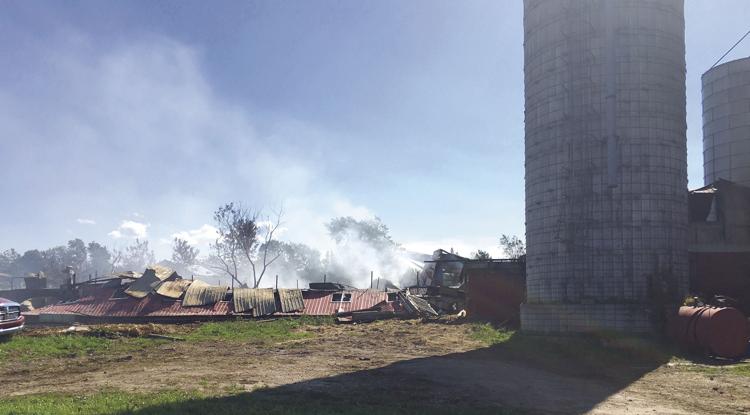 Ed Flood was asleep early Monday when flames began to tear through his cattle barn.
"One of the neighbors came yelling, 'Your barn's on fire,'" his wife, Mary, said Monday afternoon.
"He ran out the door in his underwear and tried to get the babies out."
As he rushed to his barn around 1:30 a.m., dozens of volunteer firefighters from across the area descended on the Ellenburg Center Road farm to douse the spreading inferno and help rescue the trapped animals.
CALVES RESCUED
"It was fully involved when we got there," Ellenburg Center Fire Chief Colin Wall said midday Monday.
"Most of the cows were outside, but there were cows and calves inside that we were able to get out."
Of the estimated 70 cows housed at Flood Livestock farm, about 20 were inside when the fire broke out, Mrs. Flood said.
"They got the calves out. They're in the backyard now, but two are having breathing problems and may have to be put down."
She said roughly 15 animals perished in the blaze.
NEIGHBORS HELP
About 50 volunteers from the Ellenburg Center, Ellenburg Depot, Churubusco, Lyon Mountain, Dannemora, Mooers, Altona, Champlain, Chateaugay and Hemmingford fire departments worked to stifle the flames and provided support during the four-hour call.
As the firefighters tackled heavy flames and, later, a small rekindle, neighbors sprang into action to help the Floods.
Within hours, the surviving cattle were transported to a nearby farm, where they will be housed until they can be transported to Pennsylvania to be sold.
'A LOT OF TEARS'
Thick, putrid smoke was still drifting from the devastation Monday afternoon as the Floods struggled with the emotional aftermath of the blaze.
"It's taken a lot out of him," Mrs. Flood said of her husband, as he tried to rest before heading off to milk his remaining cows.
"We've been here seven years, and there's been a lot of tears."
Utility crews were able to restore electrical power to the Floods' residence by midafternoon as they waited for insurance adjusters to arrive and water to be rerouted into their home.
With only a severely charred portion of the milk house still standing, the barn is a total loss.
Their home, just yards away, was unscathed.
Officials were still investigating the cause as of Monday afternoon.
Source: pressrepublican.com