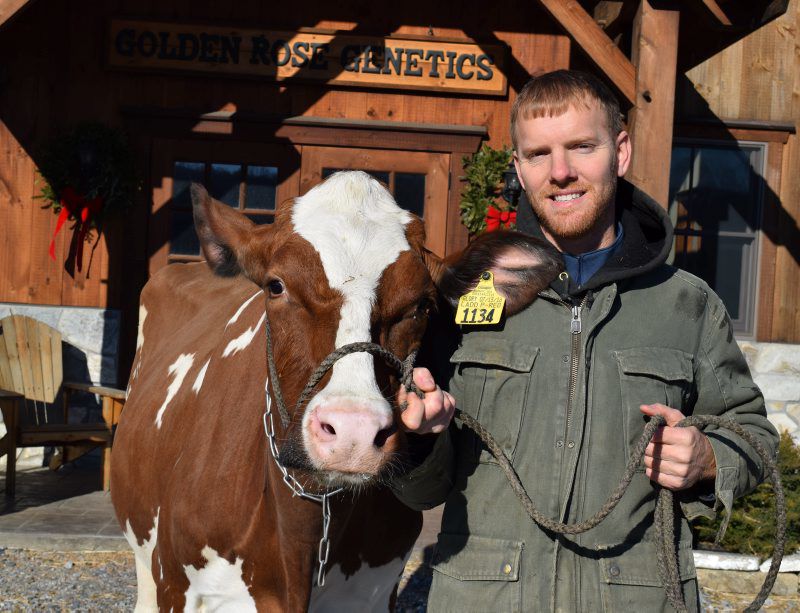 Rusty Herr's whole life had been building up to this — his own farm where he could get the best out of the excellent cows he was breeding.
His vision became reality in 2015 when he moved his cows into a striking new wood-facade barn that, from the outside, looks a bit like a Cabela's store.
Herr kept turning out top-notch cows in the beautiful barn, but it soon became clear he had made his investment at the worst possible time.
A period of strong milk and cow prices was falling to pieces, and the dairy industry was tumbling into doldrums that it still hasn't shaken off.
On Feb. 9, a little more than three years after moving in the cows, Herr will sell his 71-acre farm at auction.
Such a swift reversal could easily leave a person disheartened, questioning whether the effort was worthwhile.
But Herr, 38, professes peace with the transition and a calm confidence in what comes next.
"I look back on it now, and I have no regrets," he said.
Herr grew up dairy farming with his parents in the Christiana area.
Herr married his wife, Heather, in 2001, and from 2005 to 2015, he farmed in partnership with his father.
As he moved into a management role, Herr caught the bug for genetics.
He liked figuring out which cows and bulls to mate to accentuate desirable traits, and he trained in artificial insemination and embryo transfer so he could advance his herd quickly without relying on an expensive technician to do the breeding work.
"Those skills have sort of guided me toward where I'm at today," Herr said.
Most importantly, Herr began to think a tie stall configuration would better serve the cows than the family's dated freestall barn.
After renting a tie stall for two years to confirm that suspicion, Herr and his wife bought their current farm in January 2015.
They put up the new barn and held a dispersal sale to downsize their herd before the November move.
Herr remembers that nationally recognized pedigree expert Horace Backus, who read pedigrees for the dispersal, had kind words for the cattle.
As well he might.
The herd is currently built on Herr's best sale purchase, Oakfield Pronto Ritzi.
Herr bought the Holstein for $16,000 as a yearling heifer in the 2009 Spring Sensation Sale in New York state.
She came from a deep lineage of excellent cows, and she was guaranteed to go excellent too or the Herrs would get 25 percent back.
Not to fear. Ritzi quickly rose to 93 points, becoming the 16th consecutive generation of excellent cows in her line.
According to Herr, she was the third Holstein in the world to hit that mark.
Her daughter, Golden-Rose Atwood Ritzi, became the first 17th-generation excellent cow in the world.
"It was kind of a highlight, I guess, of my breeding career," Herr said.
Ritzi's line is now up to 19 generations of excellence, having picked up polled Red and White genetics along the way.
And what's more, counting promising young cow Golden-Rose Ladd Glory-Red and her calf, Herr has six generations of the decorated family living on the farm.
That includes Pronto Ritzi herself, now almost 11 years old and still productive.
The dairy barn where the cows live is grander than most.
From the high-ceiling entry room, handsome wood-and-pane-glass doors lead into the tidy tie stalls, where wood paneling accents the walls.
Herr said he wanted to build a unique barn that would impress people who were interested in buying cattle from his business, Golden-Rose Genetics.
"First impressions are important in the marketing of anything," Herr said.
But more than that, Herr wanted the barn to be a place where he could take really good care of his cows.
He doesn't want cows from the Ritzi family leaving the herd because of injuries or leg problems, which can be caused by poor barn design.
And by keeping cows a long time, he doesn't have to raise as many replacement heifers.
"If we can figure out a way to make that cow stay in the herd an extra six months or five years, why not do that?" Herr said.
To that end, Herr doesn't push his cows to produce every drop of milk they can make. He's satisfied with 70 or 75 pounds of milk per cow per day and above-average components.
Only the farm real estate, not the cows or equipment, will be sold at the auction, and Herr said he'll decide after the sale what to do with the cows he'd doted on for years.
With the dairy industry in a tailspin, Rusty and Heather made a concerted effort last year to see if they could get the farm where it needed to be financially.
"The markets had other ideas," Herr said.
It took several months for the couple to reach the decision to sell, but once they did, in November, Herr poured his efforts into attracting potential buyers.
He has done some targeted Facebook marketing featuring professional drone footage and photography.
Herr would love to see a dairy farmer buy the preserved farm, but he's also playing up its potential as a horse farm or gentleman's estate to expand the pool of buyers.
To avoid giving buyers preconceived ideas, Herr said he's been advised not to talk about what he hopes the farm will sell for.
The sale will mark a big change for Rusty and Heather's four children, ages 9 to 15.
"They understand the reasons, and they're also looking forward to something different, you know? Basically all they've ever known is cows and farming," Herr said.
Herr too is looking forward to being able to take time away from the farm.
Though the fate of his cows is uncertain, Herr doesn't expect to leave the dairy industry altogether.
His neighbors are giving him enough embryo transfer work to keep him busy a few days a week, and last year he and a friend started an in vitro fertilization business.
Herr has also lined up two embryo sales to the United Kingdom.
"There's still a market for the best," he said.
For the dairy industry, Herr sees hope in niche markets like direct-to-consumer sales, organic milk and A2, a type of milk promoted as easier to digest.
Herr also enjoys the bond that dairy farmers seem to feel with each other.
"You feel like if you run into a dairy farmer that you never met in your life, you can strike up a conversation and be friends with him in 30 minutes," he said.
Everyone in the industry seems to be suffering right now to some degree, so this is a time for farmers to support each other, he said.
Herr is far from the first dairy farmer to sell his farm during this fell clutch of circumstance in a brutally cyclical industry.
Like those others, his life's work is wrapped up in his farm, which in Herr's case showed such great promise for such a short moment.
As his brief tenure comes to an end, Herr said he's left above all with gratitude for the people — his parents, his wife's parents, church friends, others in the dairy industry — who have helped him on his journey.
"I'm not going into this sale with my head down and pouting, crying the blues," Herr said. "I'm very optimistic for what is next, even though I may not know exactly what that looks like."
Source: lancasterfarming.com