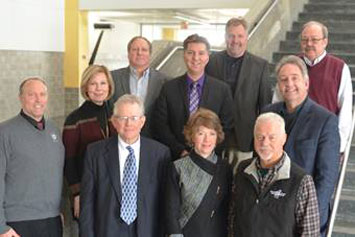 World Dairy Expo leaders elected officers at the annual March meetings of the Board of Directors, Commercial Exhibitor Committee and Dairy Cattle Exhibitor Committee. Comprised of dairy producers, business professionals and Expo exhibitors, these groups were also charged with setting new initiatives for the 2019 World Dairy Expo, October 1 through 5, during their respective meetings.
The Commercial Exhibitor Committee elected Doug Williams, Kuhn North America, to serve as committee chair while re-electing Jane Griswold, Hoard's Dairyman, as committee vice chair. Joining the committee as newly elected members were Dave Jons, Dairy Agenda Today; Dave Kuehnel, Rule of Three Solutions; and Elizabeth Sarbacker, Furst-McNess Company. The Dairy Cattle Exhibitor Committee re-elected Tom Morris, industry representative, and Bryan Voegeli, National Brown Swiss representative, as committee chair and vice chair, respectively.
The annual meeting of the Board of Directors included the election of the 2019-2020 officers. Bill Hageman, at-large representative, was elected to serve as the president of the Board of Directors. Mike Hellenbrand, purebred breeders of WDE; Debbie Crave, at-large representative; and Bob Hagenow, at-large representative, were elected as first vice president, second vice president and secretary/treasurer, respectively. Also serving on the Executive Committee are Scott Bentley, WDE general manager; Dave Bollig, overall Dairy Cattle Show superintendent; Joan Lau, at-large representative; Tom Morris, Dairy Cattle Exhibitor Committee chair; Bryan Voegeli, purebred breeders of WDE; and Doug Williams, Commercial Exhibitor Committee chair.