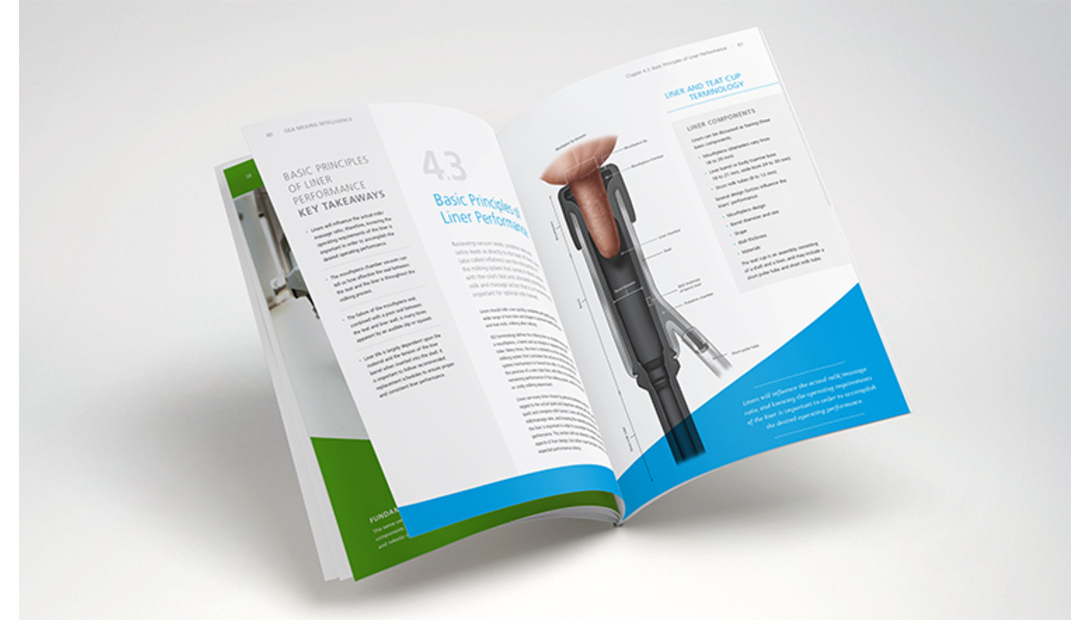 Each chapter features detailed illustrations and diagrams to depict cow anatomy, machine components, milking procedures and cow management. Key Performance Indicators (KPI's) are listed at the end of each chapter to help measure farm goals, see where progress can be made and where the farm is excelling.
"GEA Milking Intelligence is a great resource and learning tool because it has something for everyone – whether you want to learn how milk is made inside the cow, or you are an expert in milking equipment and could use the help of instructive graphics to explain the milk-harvest process," says Robin Matthayasack, GEA North America marketing manager. "The book's objective is to help dairy farmers around the world achieve the most successful milk-harvest process in an efficient, sustainable and profitable way."
With over four decades of dairy industry experience, author Norm Schuring stresses the importance of training and education as a way to maximize milk quality and cow comfort. His insights and milk harvest experience provide an exceptional resource for dairy farmers, veterinarians, consultants, students and anyone looking to further their knowledge of optimal cow milking.
GEA Milking Intelligence shows readers how GEA's philosophy of harvesting milk safely, gently, quickly and completely can be achieved by precisely matching milking components together and integrating them with proper facility design, operational training, a high level of milk quality standards and superior service.
"The common thread throughout the book is a philosophy that milking should be safe for cows and workers, maintain teat and udder health, and strike a balance between quickness and completeness," states Doug Reinemann, Ph.D., professor at the University of Wisconsin-Madison's Milking Research and Instruction Lab. "This book makes Norm's knowledge available to an even larger audience and continues his tradition of providing practical advice to dairy farmers and their service providers."
Schuring has served on countless milking committees, councils and advisory groups including 3A, ISO, Milking Machine Manufacturers Council, Dairy Practices Council and was the National Mastitis Council (NMC) president in 2009.
To purchase a copy of GEA Milking Intelligence, in English or Spanish, download an order form: http://bit.ly/GEAbook or contact GEA at 877-WS-Dairy (877-973-2479).
Watch a preview of the book here.