The Powell family had gathered in Port Campbell this Easter long weekend to celebrate the next chapter in all of their lives.
Farmer Ross Powell, 71, and his wife had just finished building a new home in the town and were celebrating handing over the family dairy farm to the next generation — Andy Powell and his pregnant partner Amber Griffiths.
What was meant to be the happiest weekend of their lives turned into tragedy when a routine rescue job yesterday ended with the father and son's deaths.
The volunteer lifesavers and dairy farmer pair were part of a rescue mission near the Twelve Apostles after a tourist got into trouble on Easter Sunday.
"It was to be a weekend of celebration for them, moving into their new house and handing over the reigns more or less from one generation to the next," Corangamite mayor and close family friend Neil Trotter said.
"Andy was to go onto the farm, so the whole family was down.
"What was to be a celebratory lunchtime turned into an absolute tragedy."
The tragedy has rocked the small coastal town of Port Campbell, but Victorians have rallied, with more than $60,000 raised to support Andy's unborn daughter, who is due in August, and partner Amber.
The boat that the pair and local CFA captain Philip Younis were taking out to rescue a foreign tourist flipped in a large swell, tossing all three into the treacherous waters yesterday morning.
Mr Younis and the tourist, 30, were rescued by helicopter.
Mr Younis went into surgery at The Alfred on Monday for extensive injuries including a dislocated hip, broken pelvis, damaged spleen and many cuts and bruises. Doctors say he is likely to make a full recovery.
The Powell family expressed their love for Mr Younis, also known as Fuzz, while remembering the lives of the men they'd lost.
Both father and son were high achievers in their farming pursuits and volunteering efforts.
"Ross (also known as Po) dedicated much of his life to contributing to his community. But above all, he was a cherished husband to Val, a dedicated father to Brett, Natalie, Dale, Kerryn and Andy, and dearly loved brother to Marea. He was very much loved and respected by many," they said.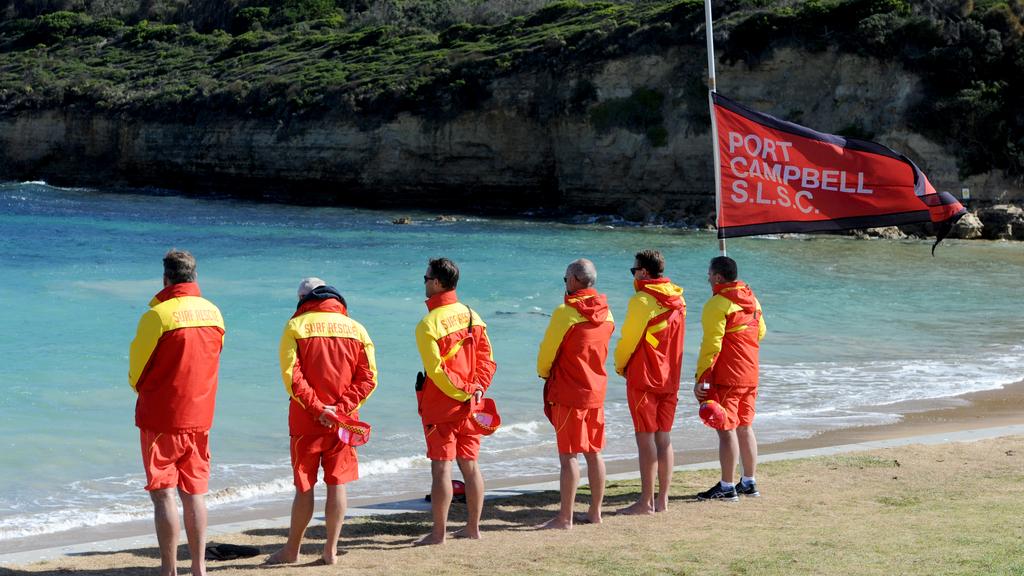 His sister Marea said he was "my rock".
"My two children loved and idolised their uncle and loved their cousin Andy. Ross and Andy will forever live in our hearts," she said.
A member of numerous rescue and service organisations, Ross earned bravery awards as part of another Easter Sunday rescue in nearby Loch Ard Gorge almost 30 years ago, saving two people.
Andy was the youngest of five children, an active volunteer and had won Young Farmer of the Year in 2017.
Mayor and family friend Neil Trotter told the Herald Sun that he was at the start of a big and special life and his death was a waste of potential.
"The whole family is just absolutely devastated," Mr Trotter said.
"He was a very good farmer – a leader in the farming community.
"All that promise, all that potential, just to see it stuffed out is just tragic."
Ross, who was affectionately known as Po, was a good friend to all who knew him.
"He was a very friendly, jovial and a very good and loyal friend," Mr Trotter said
Patrolling lifesavers around Victoria observed a minute of silence at 12.30pm today to remember the men.
More than one hundred people gathered at the Port Campbell foreshore, almost a quarter of the small town's population, with flags at the club flown at half mast.
Andy's partner Amber Griffiths posted a tribute on Facebook, saying her "heart is broken."
"We lost two of the most beautiful people to ever exist — always putting others first," she wrote.
"The love of my life, light of my life, father of my baby girl.
"My heart is broken."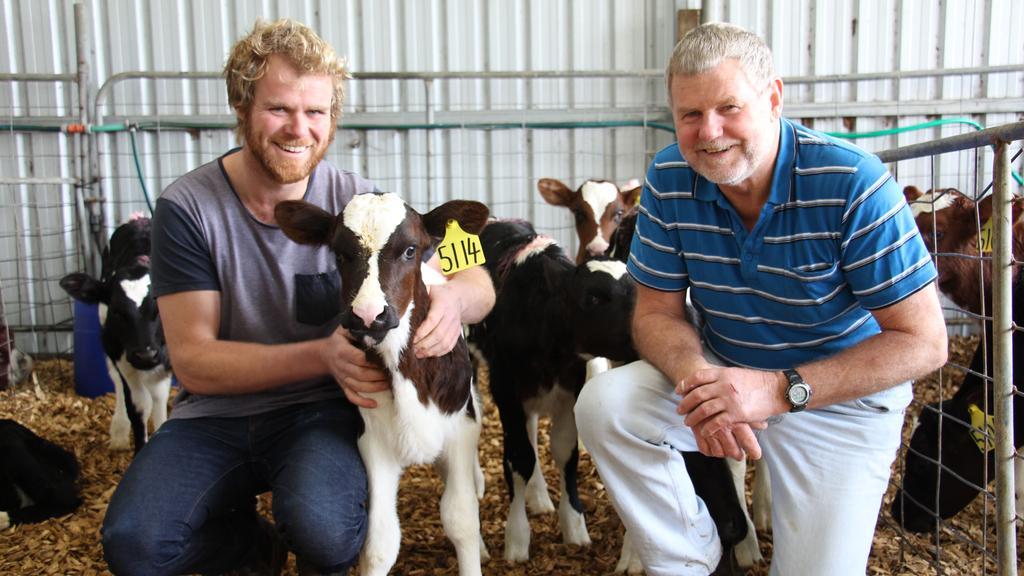 Surf Lifesaving Victoria CEO Nigel Taylor described Ross Powell and Phil Younis as "stalwarts" of the Port Campbell club, saying both were a major part of setting it up.
He said the focus for the club and Surf Lifesaving Victoria was now to support the Powell family and look after Mr Younis as he fights for life in a Melbourne hospital, with surgeons to operate today.
"He's not in a very good place at the moment," Mr Taylor said.
"His mental health, that'll be another part as well that we'll have to deal with when he's hopefully recovering and away from hospital."
He said the three men did not hesitate when they were called to action yesterday.
Since the tragedy, the Port Campbell club has been inundated with offers of help from across the state.
"One of our problems has been that everyone wanted to come," Mr Taylor said.
"Our phones keep running hot with text messages from around the country."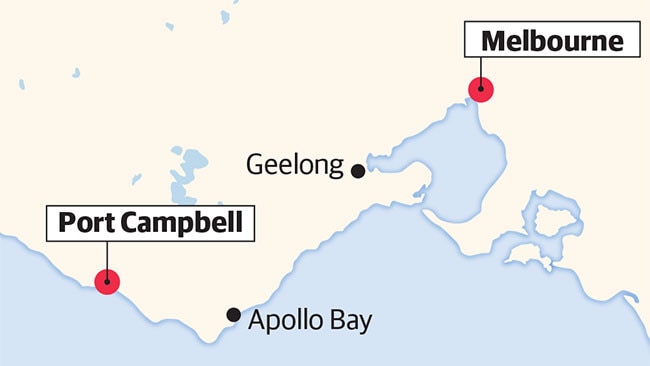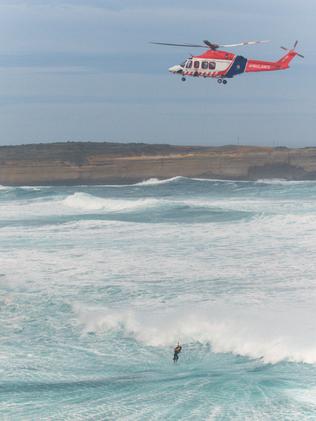 Tributes from friends of the family have been left on social media.
"Together in heaven," friend Kymmie Cornell wrote on Facebook.
"Two heroes who should have never lost their lives."
Politicians took a moment away from family time over Easter to pay tribute to the men.
Prime Minister Scott Morrison posted on Twitter: "Surf lifesavers are selfless and brave. We thank them all for their service and extend our deepest sympathies to Ross and Andrew's family and friends."
Former Prime Minister Malcolm Turnbull wrote on Twitter: "They have shown the very best of the Australian spirit selflessly putting their lives on the line to keep others safe."
Derryn Hinch said the men were "true heroes".
"Ross and Andrew Powell lost their lives trying to save somebody else's. A total stranger," he said.
"Our thoughts with everybody at Port Campbell."
POWELLS WERE 'HIGHLY EXPERIENCED'
Witnesses told the Herald Sun "fierce" waves were breaking against the cliff face as the two men were winched to safety.
The tourist, who was swept out to sea while wading at the mouth of the Sherbrook River about 10.40am, is in a stable condition in hospital.
Life Saving Victoria president Paul James fought back tears as he said the Powells were heroes.
Mr James said both were highly experienced and long-serving volunteers.
He said the tourist must have been taking a risk to have ended up in the water.
"It's not a place that I would suggest was a great place for swimming," he said.
Life Saving Victoria's Kane Treloar, who was on one of the helicopters involved in the rescue, said it was tragic that people who were serving their community in responding to a call for help had lost their lives.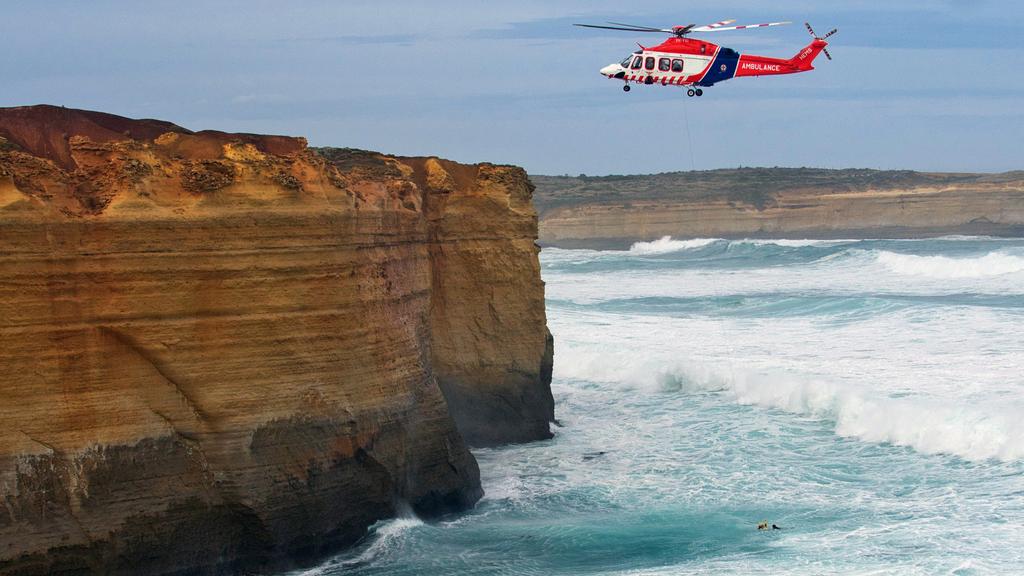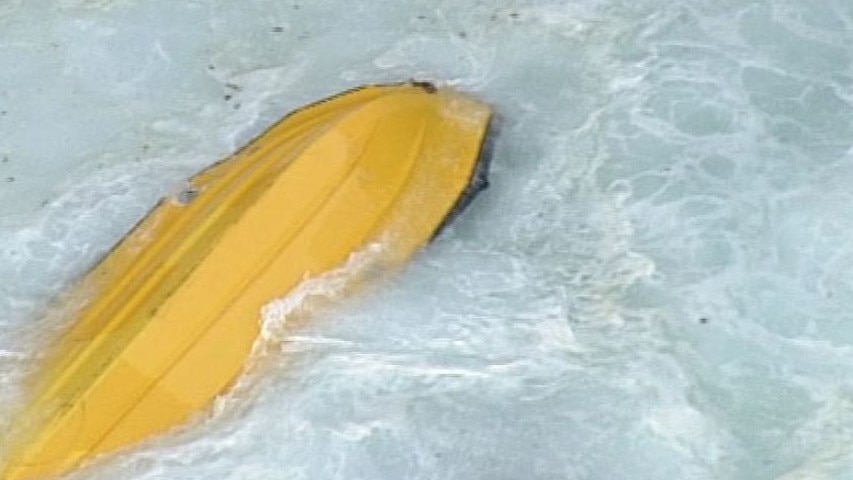 As friends and family of the Powells on Sunday night gathered at a home down the road from the surf club, an old friend of the men described them as heroes.
"They were two great blokes that would go out of there way to help anyone at any given time," he told the Herald Sun.
"It was always nice to catch up with them both. Two heroes."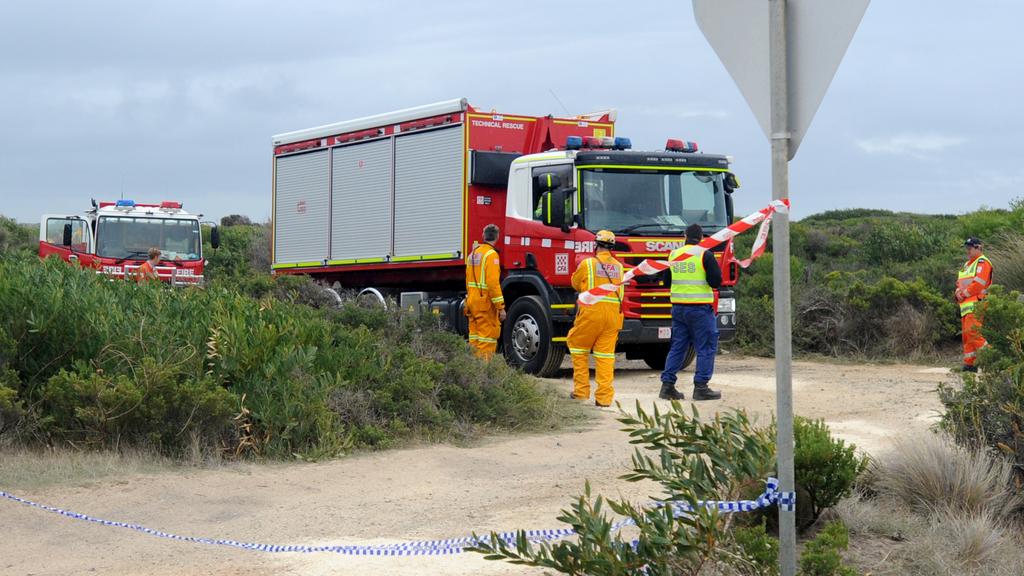 The Country Fire Authority and Victoria Police described the two deaths as "devastating".
Police and Emergency Services Minister Lisa Neville said a "full investigation" would be carried out into the double drowning.
"This is an unspeakable tragedy, and my thoughts are with the two victims' family and friends during this terribly sad time," she said.
"These individuals selflessly volunteered to keep people safe and, devastatingly, they've lost their lives doing that," Ms Neville said.
"My heartfelt thanks goes out to them and their loved ones for their commitment to their community."
Mr James said Live Saving Victoria had 35,000 members, who while patrolling the state's beaches would put themselves at risk to rescue others.
HOW TRAGEDY UNFOLDED
What started as a once-in-a-lifetime trip to Victoria's stunning coastline ended in the tragic deaths of two experienced volunteer lifesavers.
A 30-year-old male tourist had been wading in water at the mouth of the Sherbrook River about 10.40am when he was swept out to sea.
Lifesavers Ross and Andrew Powell, and Phil Younis, headed out into the 2m swell in a 6m rigid-hull inflatable boat to assist the person in the water.
But the sea was too strong and flipped the trio into the choppy waters.
"For whatever reason, that boat has got into difficulty," Life Saving Victoria president Paul James said.
Police, firefighters and lifesavers worked to winch Mr Younis and the tourist to safety. But their search for the Powells soon became a rescue mission and their bodies were found in the water.
Witness Ian McCauley stood on the nearby cliffs as the harrowing rescue mission was carried out.
"We were at Port Campbell and the helicopter was flying overhead working out where to go," he said.
"The swell was severe and they were rescuing close to the swell and where it was breaking.
"It was fierce when the waves were breaking against the sides of the cliffs.
"That was throwing up spouts 20 to 30 metres high."
Mr McCauley said the bravery and professionalism shown by the rescuers was admirable given the treacherous conditions.
"It is just very unfortunate but the one positive out of it is the bravery and professionalism the rescuers showed," he said.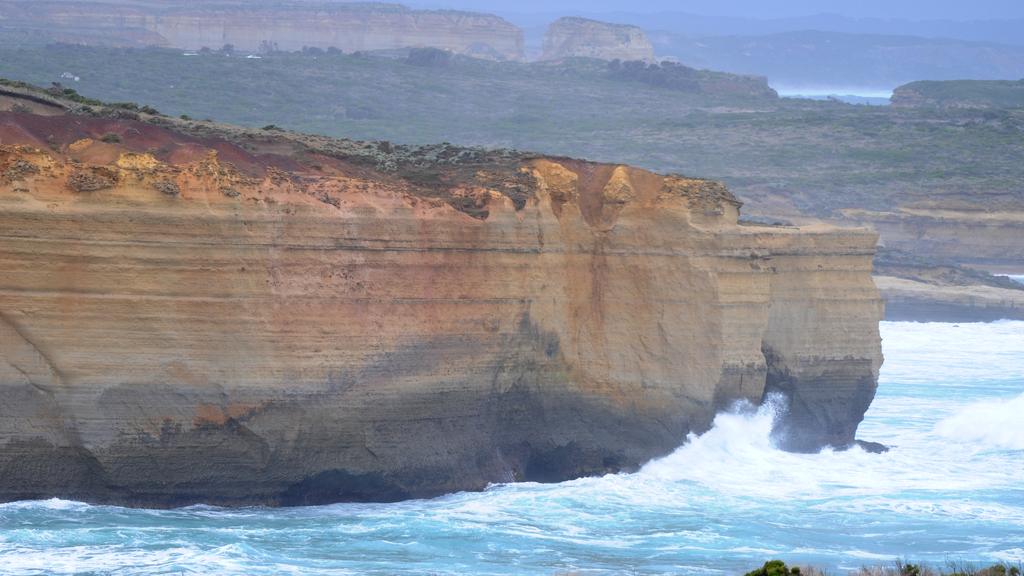 COMMUNITY ROCKED BY DEATHS
The bustling tourist town of Port Campbell was last night silent and solemn as devastated residents grappled with the loss of two men who were at the heart of the community.
The popular holiday destination has a population of just 478 people and a surf life saving club that is central to the daily life of locals and visitors alike.
Shops and venues across the region on Sunday cancelled Easter events as news of the tragic loss of Andrew and Ross Powell rippled throughout the region.
A large congregation at Port Campbell Surf Life Saving Club included the mayor, local police officers and club members uniting to remember their friends.
The men's family members spent most of the afternoon at the top of the cliffs where the bodies were recovered.
Members of the Warrnambool SLSC will conduct patrols on Easter Monday to give their Port Campbell counterparts time to grieve.
Loch Ard Motor Inn staff member Margaret said the Powell family was well loved in the area.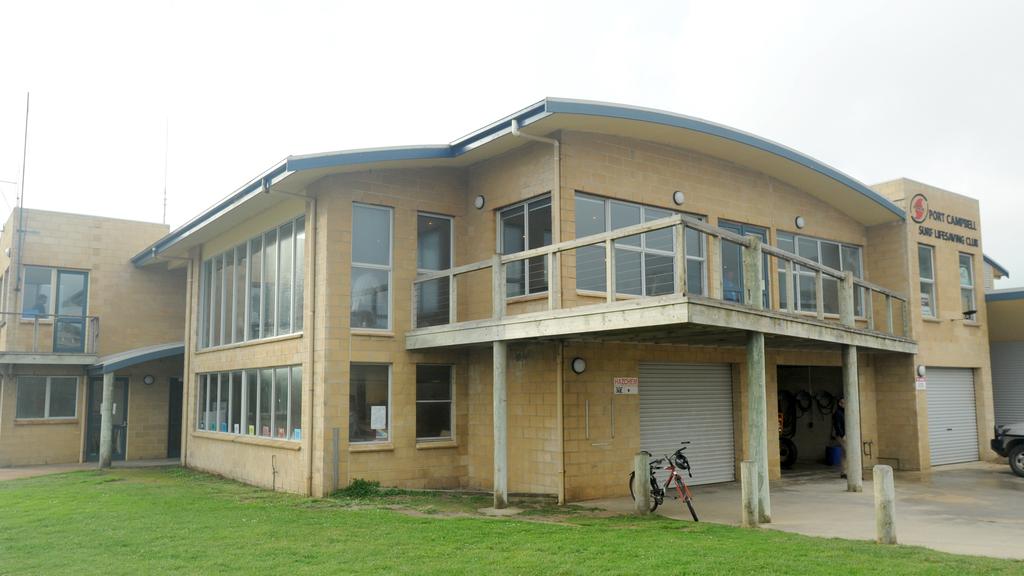 "This tragedy has affected all of Port Campbell," she said.
"We're such a close community. We have to band together in horrible circumstances like this."
Both men were well known for their hard work as dairy farmers in Cooriemungle and their tireless efforts volunteering as lifesavers.
Andrew Powell had recently stepped down as leader of the Port Campbell Dairy Farmers Discussion Group after spending years providing help and advice to fellow ­farmers.
Waves Cafe Bar and Restaurant worker Emma said the father and son were "wonderful" pillars and well-respected volunteers of the Port Campbell community.
"It's extremely sad what's happened to Andrew and Ross," she said.
"They were out there volunteering and were willing to go out there and help others. It's a very sad day for our suburb."
A man working at the Port Campbell Hotel said the mood in the usually buzzing town was low. "It's a tragedy," he said.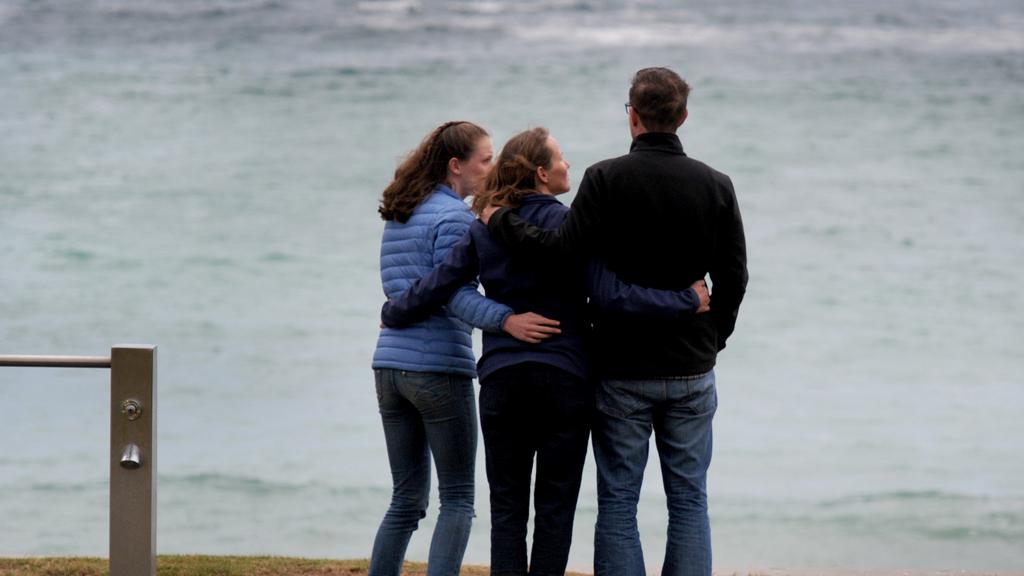 The pub took to Facebook to cancel all live music ­performances. "Live music has been cancelled tonight due to heartbreaking tragedy in our community," a post read.
"Sending our love to the people involved."
Nico's cafe Port Campbell manager Kylie said the loss served as a painful reminder of the dangerous conditions in the surf.
"There's been lots of tears today; it has brought the community together in some way. It hasn't sunk in," she said.
"A lot of our residents are keen swimmers and an incident like this just makes you appreciate your own mortality.
"We get so many visitors and tourists in the area and we all need to be conscious of the dangers in the water."
Federal member for Wannon Dan Tehan, whose electorate takes in the area, said the Port Campbell Surf Living Club was "the heart and soul of the community".
"Anyone who volunteers is a hero and my thoughts and prayers are with the club and the community today," Mr Tehan said.
Source: