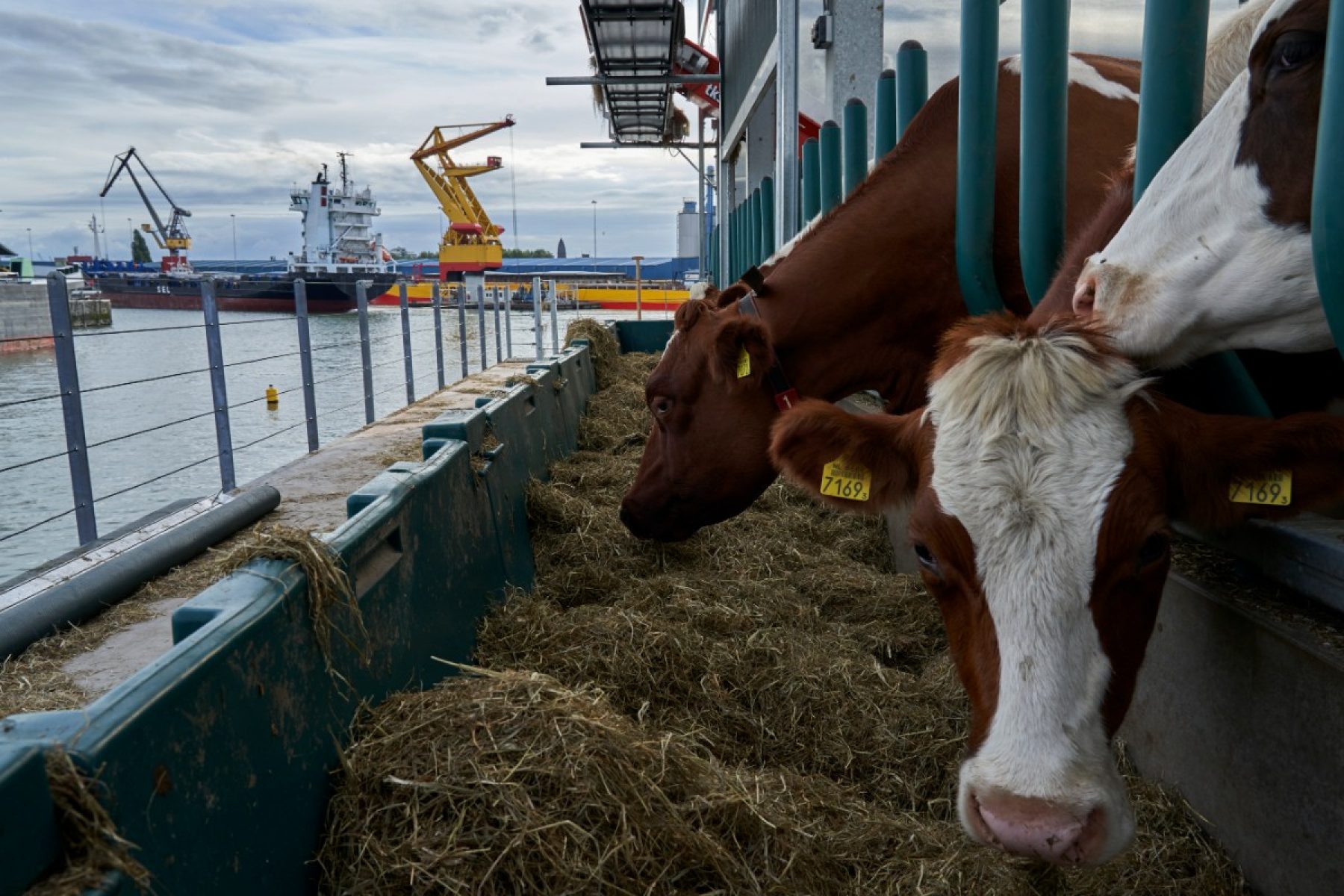 This floating farm in the Netherlands was designed to be a solution to rising sea levels but that's not the only benefit
There's an old saying in Holland: "God created the world, but the Dutch created the Netherlands", which isn't far from the truth given that most of the country was built on land reclaimed from the sea.
It is this proud, tide-fighting heritage that has helped inspire forward-thinking architects in Rotterdam to develop a potential solution to rising sea levels: a floating farm.
Anchored in the city's pellucid port, the offshore dairy farm took to the water last year and is currently home to 35 cows, which look rather incongruous chewing the cud in this otherwise industrial landscape.
Envisaged for a future when pastures are out of use due to flooding, the facility is designed to reduce the environmental impact of dairy farming, which emits huge amounts of CO2.
The farm generates its own electricity, harvests rainwater for the cows to drink and feeds them grass cuttings from parks, golf courses and football pitches. The entrepreneurs behind the project claim around 80 per cent of the cows' diets come from bio waste produced in the city, including potato peelings from Rotterdam's frites industry.
"Our cows eat the biomass residue from the city and upcycle it into fresh and healthy milk and yogurt," explains Minke van Wingerden, a partner in the project, who is also developing plans for floating chicken and vegetable farms.
"Around 70 per cent of Earth is water, so why not produce food on it?" she asks, offering me a glass of milk. "A lot of cities are located near river deltas and our idea is to put floating farms on the deltas."
Most of the processes on the dairy farm are automated; there's even a robot that goes around hoovering up the manure. Van Wingerden hopes the dung will eventually replace the chemical fertilisers used by gardeners in the city's parks, though she says legislation will need to change for this to happen.
In the meantime the manure is processed to extract all the fluids and the dry organic material is reused on the farm. "We use it as bedding for the cows," explains Van Wingerden, who says this is in line with animal welfare standards.
The cows often come ashore to chew grass verges on the edge of the port. The animals offer an unusual spectacle for the urbane residents of Rotterdam, who can buy fresh milk from a dispenser on the dock. "That's the other purpose of the project," explains van Wingerden. "Reconnecting citizens with food production."
Source: positive.news