Wegnerlann Dairy Farm LLC, increased its herd from 500 cows to 800 in 2016, before the market turned.
At the time, farm owners Jeff and Betty Wegner of rural Ettrick decided to add to their herd because they wanted their son, Tom Wegner, to have the opportunity to make a good living as a dairy farmer.
"That's why many family farms decide to expand, because they want all family members to have a role," said Annaliese Wegner, a fifth-generation farmer and Tom's wife. "If you just had 100 cows, it might be hard to provide an income for every family member."
"At the time [milk] prices were looking really good," Tom said. The farm took out loans to purchase the new additions to their herd, but when it came time to pay the bank back, milk prices started to plummet, and their business began to feel the impact of the market fluctuation.
"It's hard to make a profit," Annaliese said.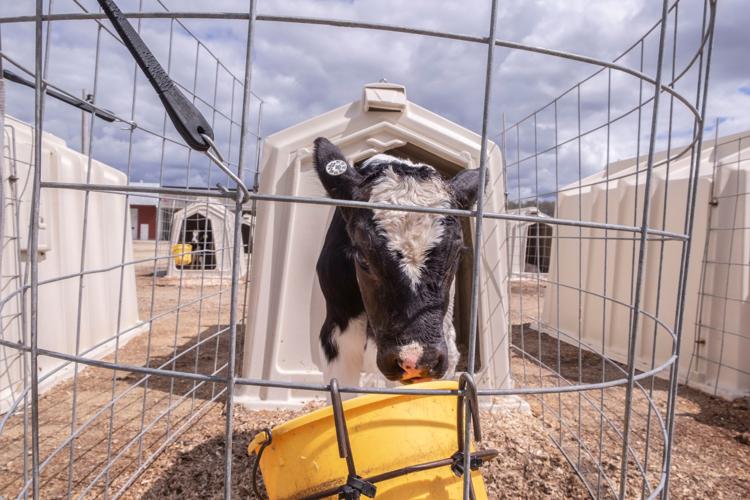 Wegnerlann Dairy LLC produces conventional milk, which is shipped through Dairy Farmers of America and bottled and sold to Kemps in Rochester and surrounding towns.
Sales of conventional milk dropped 4.5% nationwide in March, compared to 2018, while milk production increased 0.4% in Wisconsin when compared to the previous year, according to USDA reports.
"You have to make cuts where you can, when you can," Tom said. The farm had to put off repairs and the purchase of new equipment.
"We're just getting by, really. Trying to do the best we can with what we have and wait for the milk price to go back up," Annaliese said.
In 2018, Wegner Dairy Farms collected close to $50,000 through USDA subsidy programs.
Of that, $30,000 was from the Margin Protection Program for dairy, which is meant to support producers when the difference between the milk price and the feed cost falls below a certain dollar amount selected by the producer, according to the USDA. The remaining $20,000 the farm received was from the Market Facilitation Program, implemented to help agriculture and dairy producers who were impacted by the 2018 trade war between the U.S. and China.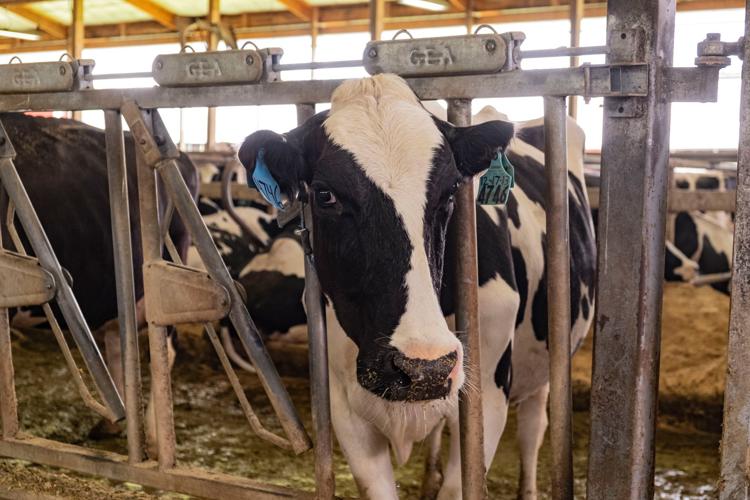 Regardless, the subsidy programs have had minimal impact on the industry, Tom said.
"I think the general public sees the [total amount paid out to subsidy recipients] as 'wow, farmers are getting all these millions of dollars from the government to keep themselves going' but really we're not, divided amongst us all it doesn't add up to much," he said.
Tom's parents, Jeff and Betty Wegner, built their business in 1986 in a shallow valley. Tom, a second-generation farmer, and Annaliese, who was raised on a dairy farm in Baldwin, began working Wegnerlann in 2011 after they graduated from UW-River Falls with degrees in dairy science.
Today, Wegnerlann Dairy can milk 16 cows at one time, with the help of new technology, and each of the 800 cows is milked three times a day.
Nine full-time employees work and live on the farm in addition to the four members of the family and one part-time employee. It takes roughly eight hours to milk the entire herd. The Wegners get feed for the cows from a custom harvester as their land is dedicated to maintaining and raising the herd.
Calves are born on the Wegner farm, and once they're weened at 8 weeks, they're assigned to a pen where they eat grain and drink water until they reach a certain age. The family works in partnership with a custom heifer raiser who cares for the calves at a separate facility not owned by the dairy, where they mature in a pasture.
"It's just another way to make things easier on us," Annaliese said.
"Less labor for us, less land-based need for a herd, less feed you need to have on hand," Tom said.
Despite market setbacks, Tom is confident the price of milk will go back up. "It has to" he said, and sees evidence of a price increase to take place during the second half of 2019.
Annaliese and Tom attribute that possible market price increase to a decrease in milk supply due to area dairy farmers who were forced to sell off their herd and abandon the dairy business after experiencing income loss year over year.
"Many dairies have sold or quit milking cows in the state of Wisconsin last year, so there's less milk on the market and that's helped increase the price a little bit," Tom said
Source: La Crosse Tribune