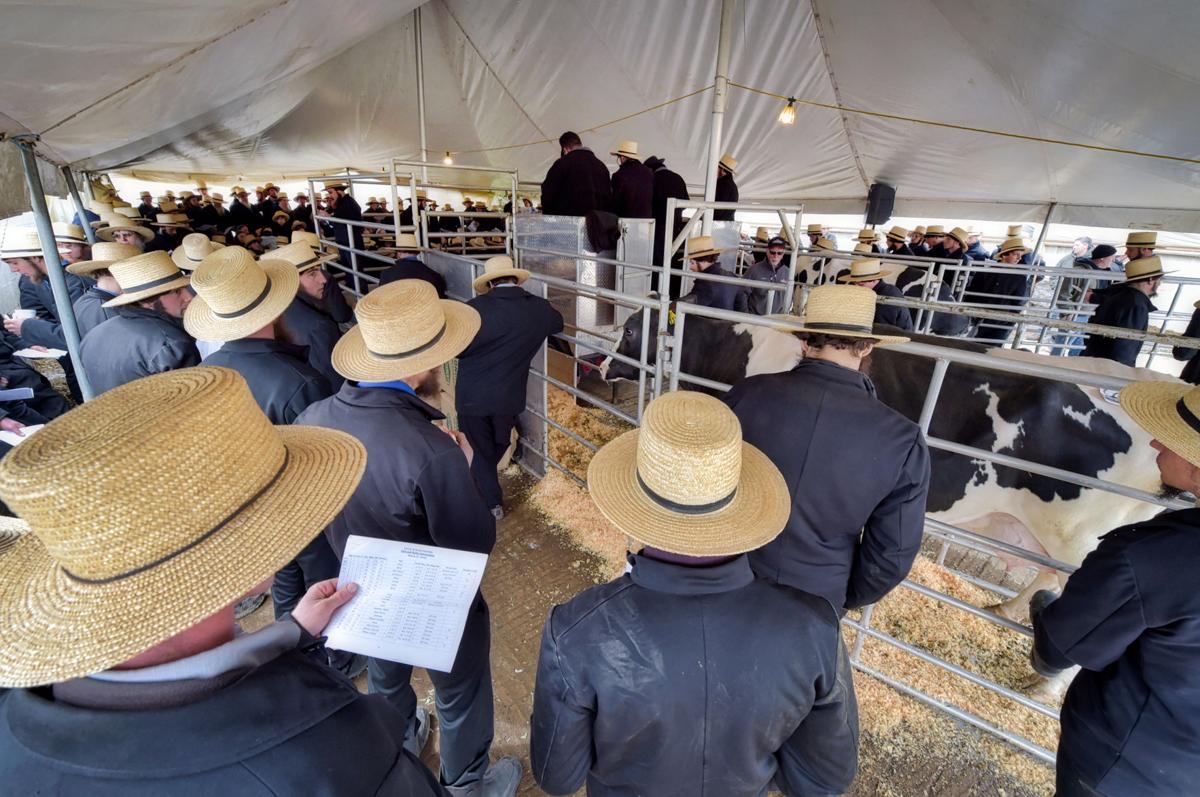 "The first cow is Pepper. She's got a good udder and 85 pounds of milk and ready to go for you," barked the auctioneer to almost 200 Amish dairymen squeezed under a tent on a farm in southern Lancaster County.
Thus, on a gray and cold afternoon on Tuesday, 28-year-old Levi Stoltzfus Jr. watched as all 66 of his milk cows were paraded past bidders and sold one by one.
After three years, it marked the end of the dairy business for the Colerain Township farmer, who began a new job this week building sheds away from the farm.
His was the second public auction for a young Lancaster County farm family exiting dairy in a week.
"Just being home with the family was the biggest thing," Stoltzfus said a few days before the short-notice auction to disperse his herd. "That's always what I liked."
But it was poor timing. His considerable investment in starting a dairy coincided with high prices for milk cows but was followed by four unrelenting years of falling milk prices.
$900 to $1,700 each
On Tuesday, young men paraded his cows before knowing eyes and their scores were called out for butterfat, protein, milk production as well as somatic cell count, an indication of milk quality.
The cows sold for $900 to $1,700 each, an OK price for the current depressed demand, but well below what similar cows were selling for even a year ago.
Most of the farmer's cows were purchased by fellow dairymen, some of whom had come in solidarity to help out one of their own.
"I'd rather give him a decent price than take the cow home like I stole it from him," said a neighboring farmer.
After the auction, Stoltzfus said the sympathy and goodwill of the 260 almost entirely Amish bidders who rode buggies to the farm were palpable.
"I could just feel that. I didn't feel worthy," he said.
Struggling with debt
Still, with the depressed prices, some of the cows may have gone for their meat, rather than to continue producing milk, noted Tim Weaver, owner of Tim Weaver's Auction Service from New Holland.
Stoltzfus was satisfied with the money he will receive from the auctioning of his herd, seven mules and milking equipment. But he said it won't free him of debt.
He said the saddest part during the auction was watching the sale of Jewel, a 9-year-old red sorrel molly mule that was the lead mule in a team that plowed his fields.
"This here is a mule you do not find every day," the auctioneer said as Jewel and another mule pranced up and down between two long rows of black-clad farmers.
The mules stopped on a dime, made graceful turns at the end of imaginary rows of corn and stood waiting orders in a gravel opening between two barns. Jewel sold for $5,600, more than any of the other six mules.
"I hope she performs for the other guy like she did for me," Stoltzfus said Wednesday, right after the mule had been hauled away by her new owner.
Falling milk prices
Dairy farmers on the East Coast are reeling from four years of falling milk prices as demand for raw milk declines, even as milk production continues to rise.
Some dairy experts have predicted a major exit from the business across Pennsylvania this year. Small dairy farmers, such as those who dominate Lancaster County, are seen as particularly vulnerable.
Aside from Stoltzfus, an Amish dairy family in East Lampeter Township sold its 55 cows at auction on March 21. They will grow more produce instead.
"We just didn't see a bright future at all in the dairy industry," said Henry Esh.
Two local herd dispersal auctions in a single week is unusual. But auctioneer Bob Landis, whose Landis Marketing business specializes in herd dispersal sales, said many local dairy farmers who leave the business have been selling their herds privately or directly for meat.
"There's been a lot of dairymen exit the business in the last six months," Landis said.
"Absolutely it's sad because it's their livelihood and most of the people selling out would prefer to stay in the business."
Added a longtime Amish dairy farmer from Quarryville at Tuesday's auction, "We're losing our tradition."
Source: lancasteronline.com